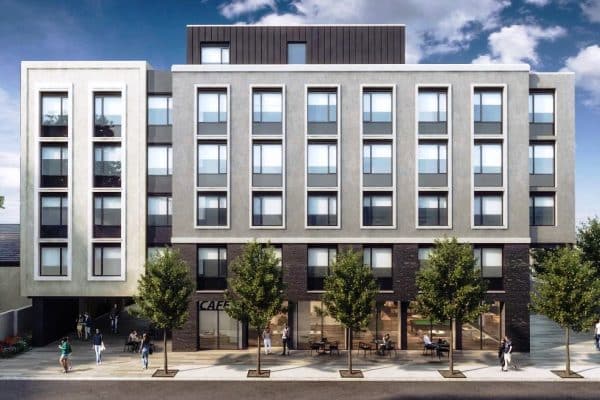 A controversial co-living development in Dun Laoghaire has been granted planning permission.
A similar housing block by the same company was refused permission in Tallaght only weeks ago.
This development includes 204 bedrooms that are 16.5 square meters in size.
They'll be aimed at workers in their twenties and thirties, who'll have their own pull-down bed and kitchenette and share communal areas.
Co-living rooms are similar in style to student accomodation, and have been widely criticised for being too small and too expensive.
Bartra was refused permission for a similar block in Tallaght just a month ago.
Commenting on the decision Bartra Mike Flannery CEO said: "This is a pragmatic decision based on Ireland's need to embrace new tenure types. The Bord recognise that there is a place for co-living within the Irish housing market and we look forward to delivering this new and innovative form of accommodation".
Ireland needs new models of housing to cater for changing demographics, living habits and employment patterns. Co-living is one such response to these changes."
The Housing Minister recently likened co-living to staying in a "very trendy" boutique hotel, but later admitted his analogy was "not a good one".
Eoghan Murphy says the government is building more than 20,000 houses and apartments this year – none of them co-living spaces.
He says co-living is targeted at approximately 1% of renters.
By Contrast Richard Boyd Barrett, People Before Profit TD for Dún Laoghaire, condemned as "shocking and disgraceful" the decision by An Bord Pleanála to grant permission to Bartra developers for 208 "co-living" homes on Marine Road.
The co-living units will be 16 sq metre "box rooms with a fold out bed" and will call in rents in the region of €1300, or more, per month. This planning application is the first of this kind to get permission here in Ireland.
Richard Boyd Barrett TD said: "I am utterly disgusted that this development has been given the go ahead by An Bord Pleanala. This application is for nothing more than modern tenements and an excuse for Bartra to maximise the profits at this prime site in central Dún Laoghaire.
"The planning permission was sought by Bartra under the contentious Strategic Housing Development (SHD) legislation that is currently under review. In fact, last week I made a submission to the SHD review calling for the scheme to be scrapped on the grounds that it was contributing nothing to addressing the housing crisis but was simply a means for developers to bypass the normal planning process in pursuit of profit. This legislation was supposedly enacted to tackle the housing crisis. These box rooms with pull out beds will have zero impact on the housing crisis and will only mean more unaffordable, inadequate places to sleep for people."