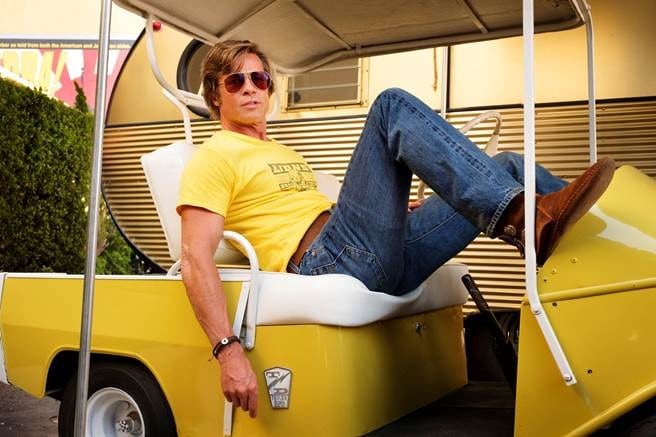 Its the Quentin Tarantino movie, which stars movie stars and is all about movie stars!
Once Upon a Time… In Hollywood is the ninth film from the writer-director (he swears he will direct only 10 movies before retiring) and features a large ensemble cast and multiple storylines in a tribute to the final moments of Hollywood's golden age.
The plot for the film takes us to 1969 Los Angeles, where everything is changing, as TV star Rick Dalton (Leonardo DiCaprio) and his longtime stunt double Cliff Booth (Brad Pitt) make their way around an industry they hardly recognise anymore.
Along with Leo and Brad, Once Upon a Time… In Hollywood also stars Al Pacino, Margot Robbie, Dakota Fanning, Bruce Dern, Kurt Russell and Beverly Hills, 90210 star Luke Perry, who died in March after a stroke. He had completed all of his scenes before he died, and the film marks his final role on the big screen.
Ahead of its release on August 14, the first official clip for the film sees DiCaprio and Russell toil about various production set issues surrounding their film.
Director Quentin Tarantino is said to have drawn inspiration from his own experiences in 1969 as well as referencing historical moments of the time, including the Manson Family murders.
https://www.instagram.com/tv/Bz69rXHhklG/?utm_source=ig_web_copy_link
Variety magazine says Once Upon a Time… In Hollywood is "a heady, engrossing, kaleidoscopic, spectacularly detailed nostalgic splatter collage of a film, an epic tale of backlot Hollywood in 1969, which allows Tarantino to pile on all his obsessions."
So far the movie has a 92% rating on Rotten Tomatoes, with EW giving it an A- rating saying, "DiCaprio and Pitt are probably as good as they've ever been in anything, one superbly channeling the outsize ego and fragility of an actor in early-midlife spiral, the other a sort of beach-boy Lebowski with a singular gift for sudden violence. Robbie looks great as Tate, but she remains mostly a sweet-tempered cypher, all beatific smiles and swinging blond hair."
The Atlantic says "Quentin Tarantino has made his best movie in a decade" and Once Upon a Time… In Hollywood is "an epic and melancholy hangout film"