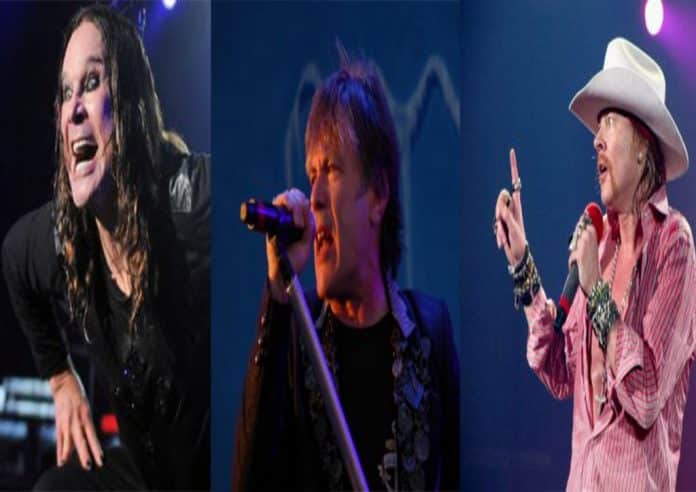 The Belgian festival Graspop has just revealed an amazing line up for this June. Taking place in Dessel, Belgium, the line-up is filled with some awesome acts.
The headliners of the four day festival are Guns N' Roses, Iron Maiden, Ozzy Osbourne, and Volbeat.
As well as this there's Marilyn Manson, Judas Priest, A Perfect Circle, Megadeth,  Ghost, Rise Against, Jonathan Davis of Korn, Kreator, Avenged Sevenfold, Meshuggah, Baroness, Neuorsis, Mike Patton's Dead Cross, Body Count, Underoath, The Darkness, Wolves in the Throne Room, and L7! Phew! Graspop takes place from June 21st– 24th. The poster of the line up is below and tickets available here.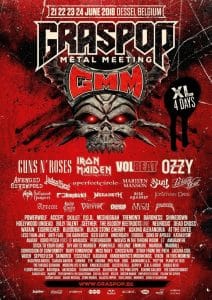 Meanwhile in other news, with Ozzy, Paul Simon and Sir Elton John are all planning to say goodbye to touring over the coming moths, Neil Young has cited farewell tours as bull**it! Speaking to Rolling Stone the rocker joked,
'I'm going out with Cher. Cher and I are doing a retirement tour. When I retire, people will know, because I'll be dead. They'll know, 'He's not coming back! He retired!' But I'm not gonna say, 'I'm not coming back.' What kind of bull**it is that? I could go out and play if I felt like it, but I don't feel like it. I've got a great band. I've got two great bands – I've got Promise of the Real and Crazy Horse. They're both great bands and they're different. But they both can play a lot of shit.'
It seems that Mr Young will be skipping a lot of shows this Summer.
And finally good news for Tool fans!
Tool have made a big announcement via social media and from the band's site. They are in the recording studio and are tracking music from their much anticipated new album
It will be the band's first album since 2006's '10,00 Days'. The group shared the following update with fans,
'After all the years of writing and arranging and re-arranging at the band's loft. I can at this time officially report that the guys have moved into a major studio where the recording process for the next album is about to begin in earnest.'