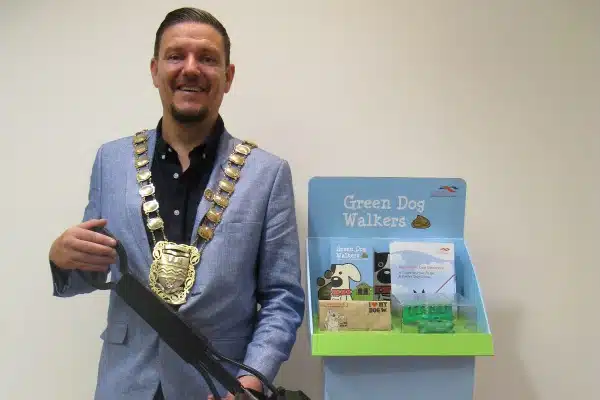 Dog fouling is an ever-vexing issue across the country with a large number of people still refusing or indeed intentionally choosing not to remove the excrement left behind by their pooch. This is despite the repeated calls from experts to do so in the wake of the potential for serious illness for children.
As part of the ongoing anti-dog fouling campaign the Mayor of South Dublin County Council Cllr Mark Ward officially launched the Green Dog Walker pop-up awareness stand in County Hall on the 7th August 2018.
South Dublin County Council continues to look for new and innovative ways to help combat the issue of dog fouling, and over the last number of years has engaged in radio and cinema adverts to increase awareness around the issue of dog fouling.
In addition there are three different types of dog fouling signs available, of which, over 200 were made available during 2017 alone. These signs are available on request and considered on a case by case basis as they are erected on demonstrated need.
Dog fouling stickers are also currently being piloted to show that all bins in the County are suitable for such dog litter, and bespoke one off signs are being placed in SDCC parks which were designed by St Joseph's Special School, Tallaght.
Make sure to keep an eye on South Dublin County Council's website, Twitter and Facebook page for further information on the Green Dog Walker Stand and how you can get involved.
Mayor Mark Ward said:
"this is a very pro-active and positive step forward in the continuing battle against dog fouling and I encourage all citizens of South Dublin County to engage in this scheme. The South Dublin County Council Green Dog Walker scheme has been in place for a number of years and seeks to encourage people to sign up to be a responsible dog owner. These new Green Dog Walker pop-up stands have been developed to provide information on the scheme and also to provide dog fouling bags for people free of charge. It will also display the Green Dog Walker participants materials, which includes a dog bone that contains dog fouling bags and an arm band in a bid to encouraging people to sign up to the scheme. There will be 7 stands in public buildings across the County and one that will be made available to groups for promotion at community events".