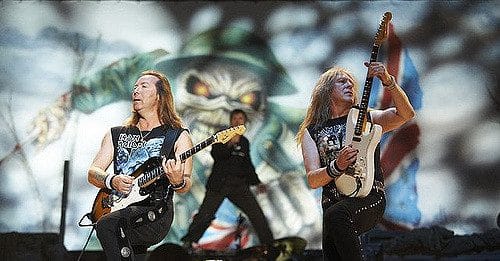 Move over Iron Maiden, there is a new Iron Maiden in town. Although this one is admittedly quite a good deal younger.
In Bolivia, a couple have recently given birth to a baby son and decided the best way to ensure their child leads an emotionally healthy life, is to name him after the heavy metal band.
You do you boo. You do you.
Pictures of the birth certificate have been circulating social media for the last few days and the parents have spoken out in defence of the name choice.
The parents are unsurprisingly huge fans of Iron Maiden and the father, César Durán Alpiri, spoke to Ruptly TV about their logic behind the name. "It has a lot to do with Eddie The Head of IRON MAIDEN. I want my son to have that strength, that energy. I want him to fight for what he wants, to have the attitude and, above all, to be mentally strong." (Translation via blabbermouth)
They are also not immune to the knowledge that possibly, just possibly, their child could end up getting some slack for the name. In relation to that the father spoke to ATB Digital and stated. "We know that in these hypothetical situations, social pressure will try to twist the will of my child, but there will be his family to teach him that happiness nests in our interior and that there are moments in which the only thing that can be done with the opinion of others, whether complete strangers, friends or best friends, is, to discard it" Fair enough.
The baby's full name is Iron Maiden Duran Ruiz and was born on February 1st. Congratulations to the happy parents!