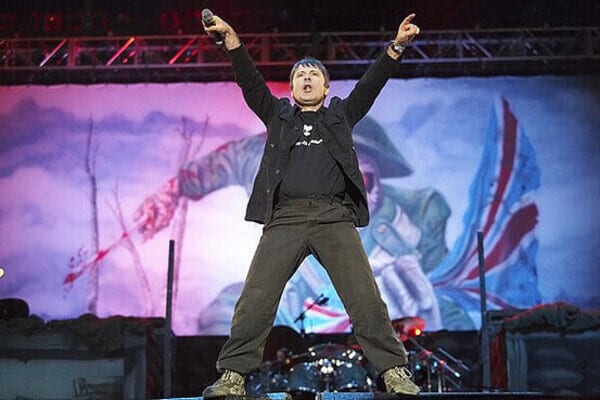 Iron Maiden frontman Bruce Dickinson has been forced to pull the plug on two dates on his spoken word tour.
The Metal legend has had to enter isolation after a member of his "immediate household" tested positive for COVID-19.
Dickinson tested negative himself.
The singer was set to perform in Birmingham on August 9th and London on August 10th but was forced to pull out of both those shows.
A statement was released by Live Nation, the promoters of his spoken word tour.
"Due to a member of Bruce's immediate household having tested positive for COVID-19, it is with regret that the final two shows of his 'Evening With' tour cannot go ahead as planned tonight at The [Alexandra, Birmingham] or tomorrow at Shepherd's Bush Empire, London," the statement read. "Despite Bruce himself having tested negative today and throughout this tour, he now has to isolate for the next 10 dates under current UK government rules. He is understandably very upset that he won't see you all for these final 2 shows but the safety and well-being of the fans, as well as the crew and venue staff, obviously comes first."
"Please keep hold of your tickets for now and bear with us while we work with our promoter to endeavour to reschedule the dates," the statement advised fans. "We thank you for your patience and understanding in these still very uncertain times of the global pandemic. We'll post all news and updates here as soon as we have a solution."
Important announcement regarding Bruce's Tour – Statement from Live Nation. pic.twitter.com/WGzLeUmn2g

— Iron Maiden (@IronMaiden) August 9, 2021
Dickinson's spoken word tour sees the Iron Maiden singer regale his audience with tales of his life in the music business, along with his opinions on a variety of subjects. He even performs a capella versions of songs as part of his act. Each evening ends with Dickinson taking questions from the crowd.
"Mainly it's a sideways look at my life, which in some ways is pleasantly ridiculous," Dickinson said of the show. "The show that is now the show has moved on quite a long way from what is just in my autobiography. Yes, it's a bit autobiographical but there's an awful lot more stuff. Part two gets interesting because it's, dare I say, a bit improv. I give you cue cards upon which you can write whatever you want — insults, advice, questions perhaps. And I then rearrange those like some sort of bizarre crossword puzzle into what becomes the third third of the show. So, basically, that's it — the last third of the show is created by you, with a little bit of help from me."
Iron Maiden are set to release their 17th album, Senjutsu, on September 3rd. You can listen to the first song released from the album, The Writing on the Wall, below.