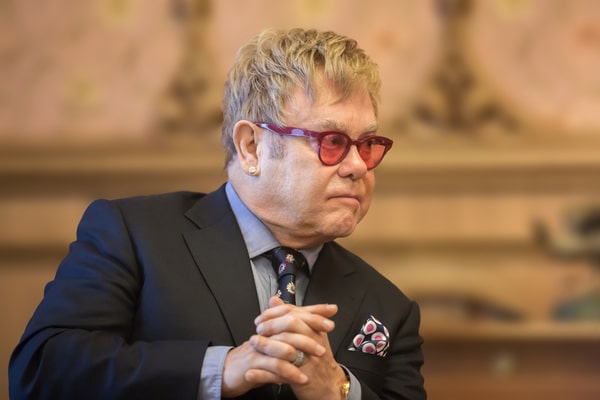 It appears that Elton John is preparing to perform the track that gave him his first No 1 hit in the US in 1973 for the last time; and then "throw a party" at never having to sing it again.
"Crocodile Rock" was the first track that Elton wrote with long-time collaborator Bernie Taupin.
Speaking in a recent interview, Elton spoke about his Farewell Tour which began in 2018, but due to the pandemic will finish in 2023.
Despite the song's success including going platinum, the singer expressed his delight at never having to sing "Crocodile Rock" again.
"The last time I have to sing Crocodile Rock I will probably throw a party", he said. "It was written as a kind of a joke, like a pastiche".
"And it became a big hit and people love to sing along – so who am I to say 'I am not going to play it' because I play to amuse and to entertain people. But I have to say when the last show is done at the end of the tour I will never ever sing that song again". 
Elton John shared his favourite track. That award goes to "Your Song". 
"I don't mind not being able to get away from Your Song because it is a really nice song and I never get fed up singing it", Elton revealed.
Still an appetite
Speaking recently, Elton John has also said that he is keen to make new music. He said he would love to work with Canadian R'n'B star Sam Fender and the Weeknd. While, singer Lady Gaga hails him as her "mentor".
He also revealed that he was working with Rock band Metallica over lockdown. More on that story here.
"I want to work with The Weeknd. His Super Bowl performance was fantastic", Elton said to Deeney Talks podcast.
"I'm such a huge fan. I am off to LA for a couple weeks and I am going to see him", he added. "He is a giant of music and a giant of a man and I love him".
Elton John Farewell Tour
Elton John also revealed that he is unsure if he will hit the road again when this Farwell Tour ends.
The father of two said, "Having spent so much time with boys at home I will take a look at what I do in the future when the tour ends".
"I have done it all with this farewell tour. I will be 76. Your priorities change. "Do I want to go gallivanting around the world? I have done it. "I will have to take stock but I will make records. But do I want to continue touring? I will have to see about that". 
"But listen, I have not got anything to complain about. I have hit the jackpot and I am really grateful".