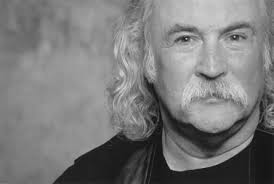 David Crosby is showing he's a man of peace by apologising for "slagging off" Neil Young and his girlfriend.
The former band mates have been at odds ever since Crosby called Young's partner – 80s' movie star Daryl Hannah – a "purely poisonous predator".
Last year, Young split with his wife of 37 years and started seeing Hannah which didn't go down too well with Crosby.
He announced Crosby, Stills and Nash would never tour with Neil Young again but now, the 'Teach Your Children' singer is setting a fine example by apologising profusely to Young and Hannah when he appeared on Howard Stern's radio show in the US.
He said: "I screwed up..I shouldn't have done it. Daryl Hannah never wound up in a Texas prison. I'm screwed up way worse than that girl. She's making Neil happy and I love Neil, I want him happy." Addressing Daryl directly he added, "I have no right [and] nowhere to stand to criticise you".
Listen to the whole interview with Howard Stern below.
(We can only assume Crosby's grasp of the word "slagging" is in preparation of his visit to Dublin with Stills and Nash later this year with they play the Bord Gais Energy Theatre on September 16th.)