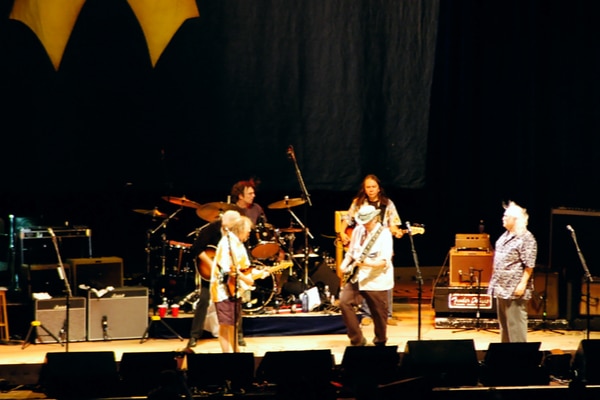 Crosby, Stills & Nash have asked for their music to be removed from Spotify, in support of Neil Young.
This comes following the ongoing controversy surrounding the much malinged Joe Rogan Experience podcast.
The group are supporting Neil Young, who recently asked for his music to be removed from the platform amid concerns of spreading "misinformation" about Covid-19. More on this here.
Neil Young also said that his removal from Spotify would cost him 60% of his salary. Despite admitting that this was a "huge loss", Young also emphasised the importence of  "recognizing the threat [that] the COVID misinformation on Spotify posed to the world".
This also comes after 270 members of the medical and science community had called Joe Rogan's Covid views "not only objectionable and offensive but also medically and culturally dangerous".
Neil Young was also a band member of this disbanded rock supergroup.
"We support Neil"
Now, David Crosby has taken to Twitter to confirm that he and the band stand by their man.
"We support Neil and we agree with him that there is dangerous disinformation being aired on Spotify's Joe Rogan podcast", the group said in a statement which was shared via Crosby's Twitter.
"While we always value alternate points of view, knowingly spreading disinformation during this global pandemic has deadly consequences. Until real action is taken to show that a concern for humanity must be balanced with commerce. We don't want our music — or the music we made together — to be on the same platform". 
You can see this post below.
— David Crosby (@thedavidcrosby) February 2, 2022
Fellow bandmember Graham Nash had pulled his music from Spotify, in support of Neil Young.
He released this statement, "Having heard the Covid disinformation spread by Joe Rogan on Spotify. I completely agree with and support my friend Neil Young and I am requesting that my solo recordings be removed from the service". Find out more here.
In response to the recent upheaval, Joe Rogan apologised in a video via his Instagram where he was keen to "some of the controversy that's been going on over the past few days".
"I don't always get it right, he added. "I will do my best to try to balance out these more controversial viewpoints with other people perspectives so we can maybe find a better point of view".
On Young's departure, Rogan also said "I'm very sorry that they feel that way. I most certainly don't want that. I'm a Neil Young fan, I've always have been a Neil Young fan". Check this out here.