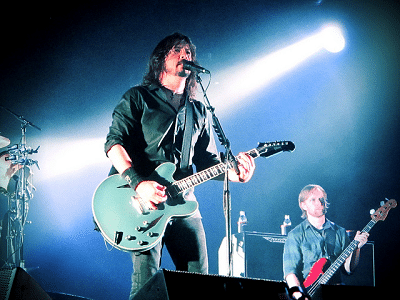 Ask and you shall receive, the Foo Fighters have set a date for a crowd-funded concert that fans have been begging for.
Supporters in Richmond, Virginia, put together the campaign to bring the Foo Fighters back to their state for the first time in 15 years.
Over the past few months, 1,400 Richmond fans have purchased €40 tickets to a show that doesn't exist, in the hopes that it will persuade the band to visit the city. Organiser Andrew Goldin, managed to raise a total of €56,000 for the band to play in Virginia.
The rockers confirmed the date of their Richmond gig on Twitter.
.@foofighters_rva @Tilt How's Sept. 17th @TheNationalRVA sound? Let's do it. If you pledged, check your email for details!

— Foo Fighters (@foofighters) September 3, 2014
Dave Grohl recently told 5FM, that crowd-sourced shows could represent the future of live music, suggesting that the band would definitely consider playing in other cities that participated.
Grohl said, "I'm telling you, it could become the way that bands decide where they want to play. It's a fun thing; it sort of changes the game."
He added, "For the past 20 years we always decided who we're going to play with and where we're going to play. But now, if we hear that people want us to come somewhere, maybe we'll come there."
Maybe this is how we get the Black Keys to play an Irish concert in 2015.
Watch the original video for the crowd-funding campaign below.