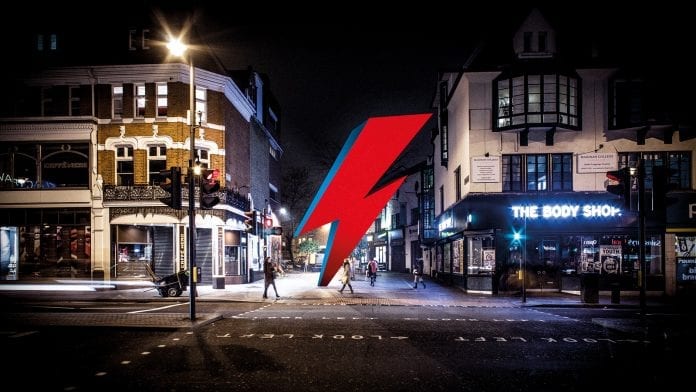 Members of the Brixton Community and presumably David Bowies fans are rallying together to try and get a memorial to Bowie built.
The proposed memorial will be placed on Stansfield Road in Brixton, which is a stone's throw away from Bowies birthplace, and has been designed in consultation with Bowie's teams in New York and London.
The community members have started a CrowdFunder page to raise funds for it and have given themselves the deadline of 28 days to raise £990,000.
The sculpture is a recreating Duffy's Aladdin Sane LP cover in gravity-defying red and blue-sprayed stainless steel. It actually does look pretty impressive to be fair.
Speaking about the sculpture on their crowdfunding site, the organisers have described it as "A nine metre missive from another dimension, hurled from afar."
Well, it's always good to have self-belief in what you're doing.
The organisers also have developed a long list of unique awards for pledgers, ranging from donating £30 for a badge and then to donating £6000 and getting a large canvass painting using £1,000 in Brixton Pounds (?), mixed up, pasted on and painted over. Although those paintings are limited so if you are absolutely dying to own them, you better head over soon.
This isn't the only memorial to Bowie in the area as there is also here a Bowie mosaic in Brixton, south London, but the proposed new memorial will definitely be one that stands out from the crowd.
You can head over to the crowdfunder website here. Where you can watch a trailer for the memorial and also enjoy reading one of the most passionate and flowery crowdfunding descriptions you'll possibly ever see.
Photo Cred: David Bowie Crowdfunder