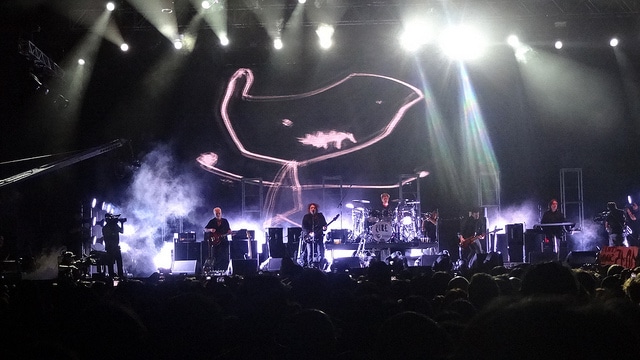 English rock band The Cure performed their highly anticipated Christmas gig in last night Sunday December 21st, playing 40 songs from their back catalogue.
The band are due to play their second show tonight at London's Hammersmith Apollo venue.
The group are well known for their lengthy performances and the December gigs appear to be no different.
The alternative rockers promised a sprawling two and a half hour set for each concert and last night they definitely delivered.
Before the shows, the Cure promised that they "will be performing a 150 minute show playing songs drawn from their entire 37 year old catalogue including deep cuts, pop songs, fan favourites and surprises galore."
The group started off with the track 'Shake Dog Shake' from their fifth album The Top released in 1984. They quickly moved onto the fan favourites 'Just Like Heaven', 'The Lovecats', 'A Forest' and 'Boys Don't Cry'.
NME reports that The Cure also performed 'The Wailing Wall' and 'The Empty World' for the first time in 30 years.
Watch The Cure performing 'Just Like Heaven' below.
Speaking to NME earlier this year, The Cure's frontman Robert Smith revealed that the group's next album will be a mix of brand new material and unused material from 2008′s 4:13 Dream. Smith said that he wanted to release that album as a double, but it only came out as a single LP.
Smith said: "Honestly? I was so f**king angry that [the label] wouldn't release a double album that I wouldn't give them the other songs."