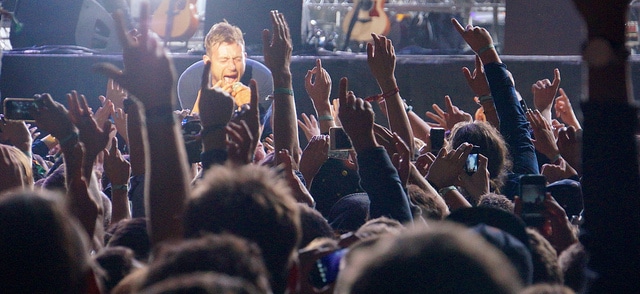 During a performance in Buenos Aires last night, Blur's frontman Damon Albarn apologised to the Argentinian crowd for the recent behaviour of Jeremy Clarkson.
Albarn referred to the host of the long running television series Top Gear, as a "f**king arsehole".
The outburst comes after Clarkson drove a car through Argentina with the licence-plate 'H982 FKL'. The number-plate was reportedly a reference to the Falkland's War.
The presenter said the the numbers were a remarkable coincidence. Whatever the meaning of the numbers, Clarkson and the Top Gear crew had to flee the country due to the controversy.
In the middle of the concert, Damon took the opportunity to apologise to the Argentinian crowd.
"I want to really apologise for the behaviour of a guy called Jeremy Clarkson who does a programme called Top Gear, he's a f**king arsehole. Not cool."
The Top Gear cars were smashed up near the boarder of Chile.
A second set of plates were found in the boot, that read 'BE11 END', this angered the Argentinian officials further.
"We know bellend doesn't mean the end of the bell and is a word used instead to describe the head of the penis which is often employed as an insult in England. We regard it as another insult to the people of Argentina. We're sure the Top Gear team were planning another provocation with the number plate in the same way they provoked us with the one referencing the Falklands War."
Clarkson tweeted:
For the only accurate account of what happened in Argentina, read the Sunday Times tomorrow.

— Jeremy Clarkson (@JeremyClarkson) October 4, 2014