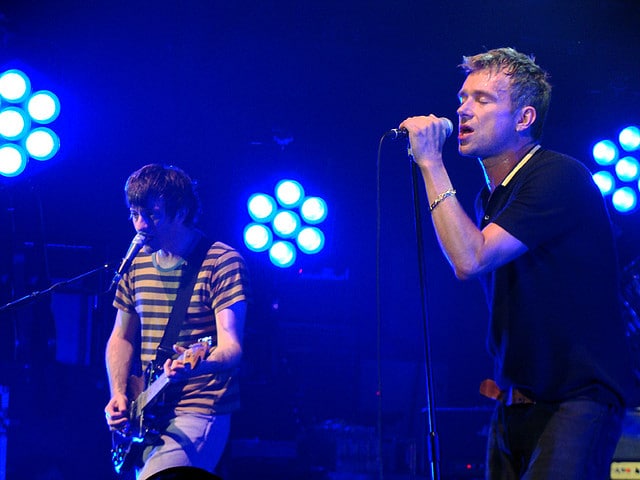 Damon Albarn was performing at London's Royal Albert Hall last night and was joined on stage by a familiar face.
The singer was accompanied by his Blur bandmate Graham Coxon.
The last time Albarn and Coxon performed together was the Latitude summer festival, the pair played 'Tender' on stage.
The duo dug out an old Blur classic 'End Of A Century' from the Parklife album. They played with Damon's touring band The Heavy Seas, as well as a string quartet and a gospel choir.
Also performing on the night were special guests the iconic hip-hop trio De La Soul, Chicagoan recording artist Vic Mensa and Brian Eno.
As Coxon appeared on stage for the encore, he was greeted with a rapturous applause. He played the Blur tracks: 'End of a Century', 'The Man Who Left Himself' and 'Tender'.
Watch Damon Albarn and Graham Coxon's preformance of 'End Of A Century' below.
Albarn has also queried whether the Band Aid 30 charity single is the best way to help people in Africa to deal with the Ebola crisis.
He told Channel 4 news: "Our perspective and our idea of what helps and our idea what's wrong and right are not necessarily shared by other cultures. There are problems with our idea of charity, especially these things that suddenly balloon out of nothing and then create a media frenzy where some of that essential communication is lost and it starts to feel like it's a process where if you give money you solve the problem, and really sometimes giving money creates another problem."
Damon suggested that the artists taking part in Band Aid 30 would benefit from travelling to Africa themselves: "All those people who are making that, taking that afternoon out of their schedules, go to Africa, experience it, feel that sense of magic and maybe have a different attitude to life when you come back."