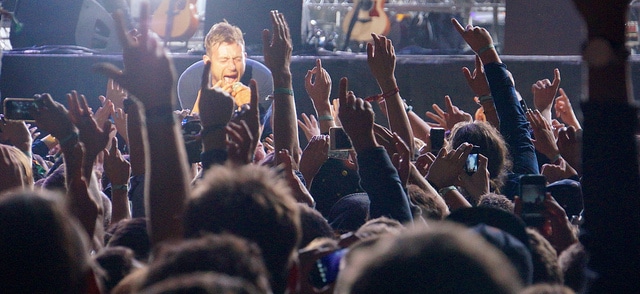 Blur's frontman Damon Albarn is rumoured to be collaborating with English singer Adele on her new album.
Her last record titled 21, was released in 2011. It was her second studio LP, featuring the smash hits 'Rolling In The Deep' and 'Rumour Has It'.
21 sold over 30 million copies and was the biggest selling album in the world in 2011 and 2012.
Albarn was apparently spotted meeting the singer in a west London recording studio, where they spoke about her new material.
A source close to Adele has told The Sun: "Damon and Adele had a chat about her new album and they could work together in future. Adele's exploring loads of different avenues for the music and isn't rushing anything, but the album will be released next year."
"He [Albarn] has produced and written brilliant pop songs for Gorillaz and slower material for acts such as Bobby Womack. He has advice to give from 25 years in the business."
Earlier this month, Genesis' drummer Phil Collins branded the English singer as a "slippery little fish". Collins claims that Adele offered to work with him on a song for her new album, then promptly turned around and snubbed him.
Adele's new record is due out in the spring of 2015, it'll be the first material she's released since singing the James Bond anthem 'Skyfall' in 2012.