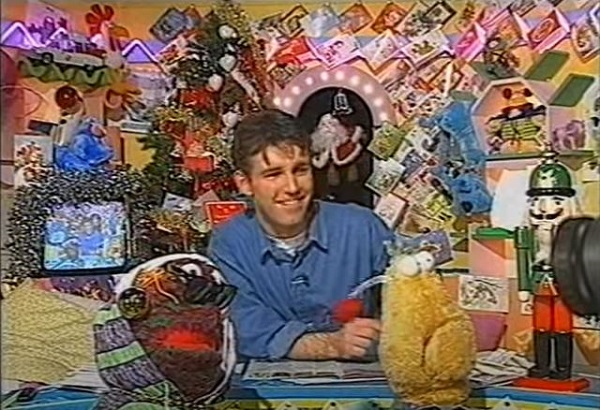 Ray D'Arcy admits 2020 has a big influence in the returning of The Den. Now, it is due to arrive back on our screens after a ten year absence.
Originally hosting the show between 1990 and 1998, D'Arcy will return with his sidekicks, Zig and Zag, Dustin and Socky.
Speaking to the RTÉ Guide, Ray D'Arcy admits never imagining himself back, but loves that he is.
"A return of The Den was never on the cards up to that point. It was an out-of-body experience. It felt surreal but also so real. I was transported back and yet it was like we had never left."
Ray and the gang returned to our screens earlier this year for RTÉ Does Comic Relief. Westmeath singer, Niall Horan joined them on the show and received quite a bit of stick from Dustin.
D'Arcy says there was one sticking point with the return:
Following the successful skit, RTÉ confirmed the iconic show would return on a more permanent basis. During discussions, D'Arcy reveals there was one sticking point.
"When I was speaking to the people in power, Zig, Zag and Dustin had instructed me to tell them that it had to be live. That was the deal-breaker. And it will be live. Sure, The Den pre-recorded? Nah – it has to be live."
In discussions of what show they can put on, and with the current pandemic, RTÉ wants it to be without an audience. D'Arcy told listeners of his RTÉ Radio1 show that RTÉ needed an entertaining show, with no audience.
D'Arcy told listeners on his radio show that there was one problem when RTÉ were looking for a show. "they needed a show that was entertaining. It needed to be interactive and for the whole family. The big thing was we couldn't have an audience, there can't be audience. As they were saying these things, I was ticking them off in my head."
The iconic show will return to our screens on Sunday, November 8th at 6.30pm and will initially run until Christmas.