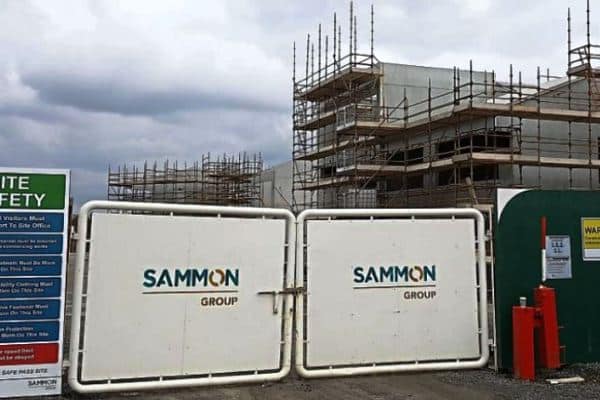 THE building company that was overseeing the construction of the Maynooth Education Campus has gone into liquidation. Two 1,000 pupil post-primary school buildings are well advanced already.
The Education Minister has expressed his disappointment about Sammon Contracting Ireland Ltd. Richard Bruton says a retendering process will now be needed to complete the Co. Kildare project.
"I note with regret the confirmation by the Court-appointed examiner that it has not been possible to secure the survival of Sammon Contracting Ireland Ltd as a growing concern and that it is today being placed into liquidation.  I know that this development will come as a particular blow to employees of the company and to its sub-contractors.

As of today, Sammon Contracting Ireland Ltd was involved in the construction of one school building project – the Maynooth Education Campus – which consists of two new 1,000 pupil post-primary school buildings.  This project was due to be completed in May 2019.   Following the announcement of the liquidation, a retendering process will now need to be done to complete the school buildings.  I have requested my Department to provide me with a critical path for the completion of this campus project and to consider how each stage in that critical path can be delivered as quickly as possible – while also ensuring that the quality and integrity of the project is fully protected."
Sammon Contracting was also part of the tender for the completion of five schools and one further education college after the liquidation of Carillion.
Minister Bruton says this has made the process more difficult but every effort is being made to complete these facilities by September. Work on the campus had a projected cost of €30m.
Today's news comes after weeks of uncertainty surrounding the future of their jobs following the collapse of the UK construction and services giant Carillion.
Fianna Fáil Spokesperson on Education and Skills Thomas Byrne TD says Minister Bruton needs to set out a detailed plan to ensure there are no unnecessary delays in completing a number of school building projects following the liquidation of the Sammon Group.
"Sammon is currently involved in the construction of a number of schools around the country. There are now concerns that these projects could be delayed indefinitely as a result of Sammon's liquidation. This whole saga also highlights the need for a better system to ensure subcontractors get paid for the work they have carried out on State funded projects.

"Minister Bruton needs to set out what his Department is doing to get these projects back on track. These schools are badly needed and cannot be allowed to be delayed indefinitely. It's nearly six months since the collapse of Carillion. While we all hoped that the Sammon Group could get through this crisis intact, Minister Bruton should have been preparing contingency plans nonetheless," concluded Deputy Byrne.
The news that Sammon Contracting Ireland Ltd has gone into liquidation is very disappointing for the authorities at all the schools in respect of which the group had a contract. #KildareNorth #Education

— Bernard Durkan TD (@BernardDurkanTD) June 5, 2018