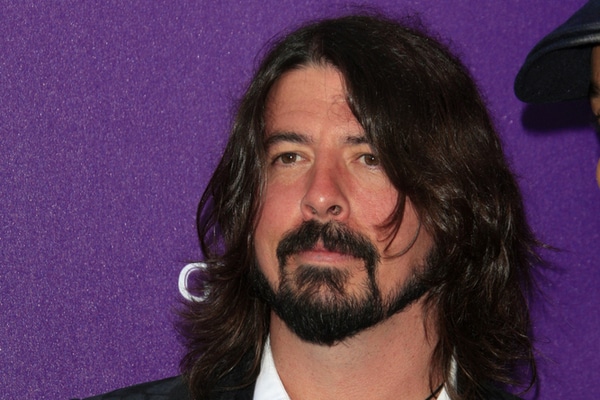 Dave Grohl and his daughter Violet have paid tribute to Amy Winehouse with a cover of her song Take the Box.
The performance was part of Grohl's Hannukah Sessions, in which the Foo Fighters frontman performs a cover version of a song associated with a Jewish musician on each of the eight days of the Jewish festival. Grohl has teamed up with producer/keyboardist Greg Kurstin for the eight covers.
For the Winehouse cover, Grohl enlisted his daughter Violet to take over singing duties as he performed on drums with Kurstin on piano. Two backing singers also took part.
15-year-old Violet's impressive vocal style proved a perfect foil for Winehouse's song.
The description of the video notes that "Despite this song's mention of a 'Moschino bra you bought me last Christmas,' it's common knowledge that the amazing woman behind the song was actually Jewish," and mourns Winehouse as "Gone too soon."
In recent years Violet has popped up on stage at several of her father's shows, including during Foo Fighters' Lollapalooza performance in August of this year.
Earlier this year Dave, Violet and Kurstin teamed up with Nirvana's Krist Novoselic and Slayer's Dave Lombardo for a live performance on late night show Jimmy Kimmel Live. Blasting out a cover of punk band X's track Nausea, Violet took on lead vocals with her Dad on guitar.
This led to X inviting Violet to join them on stage at concert in October to celebrate the 40th anniversary of their debut album Los Angeles.
Grohl was surprised to learn through his grandmother that he could be related to X drummer DJ Bonebrake.
"I found it a bit peculiar that my not-so punk rock 83-year-old grandmother would pay any attention to X's tour stop, but upon further inspection I noticed that she had circled the name of one of the band members in the article, DJ Bonebrake, and I quickly realised why this article had caught her attention," he said. "Bonebrake was my grandmother's maiden name. I wanted to record a song that would not only pay tribute to the people and music that influenced me to become a musician, but also to pay tribute to my long family history."
This year's Hannukah Sessions have so far seen Grohl cover Lisa Loeb's Stay (I Missed You), The Ramones' Blitzkrieg Bop, Barry Manilow's Copacabana and Van Halen's Jump. You can watch them all below.