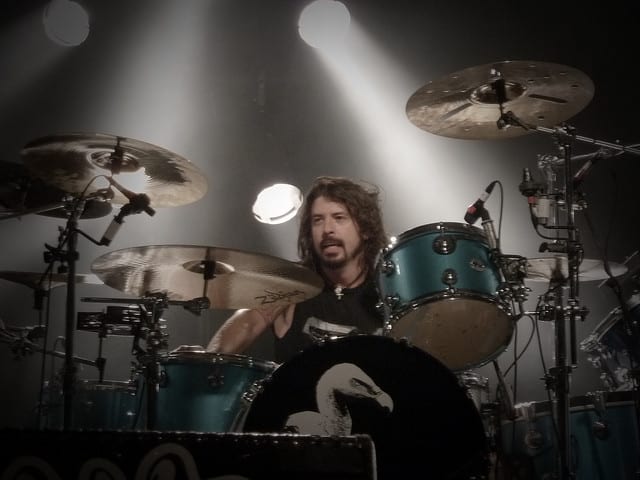 Foo Fighters' frontman Dave Grohl has spoken about the time himself and Prince jammed together in an empty stadium.
The iconic pair performed a Led Zeppelin classic 'Whole Lotta Love', just to pass the time and amuse themselves.
In an interview with Rolling Stone, the Foos singer outlined how the bizarre incident occurred. It didn't start off on the most friendly terms, the American rockers recorded a version of Prince's song 'Darling Nikki', but Minnesotan native refused to let them release it.
However, in a very sneaky move, Prince covered the Foo Fighters' 'Best Of You' at the Superbowl in 2007.
Grohl reveals: "Then three years ago, Prince books 21 nights at the Forum [in L.A.]. I can't f**king wait. I go to the first show, in a party bus with all my friends, boozing it up. I walk into the Forum Club and bump into somebody from a road crew I'd worked with before. He says, 'Prince knows you're here. He wants to jam.'
"The end of the night, I'm standing next to this black curtain. I pull it back – there's Prince with Sheila E. I go, 'Hey, man, great show.' He says, 'When do you want to jam? How about Friday?' All right, cool!"
"We start playing, he's got the whole band up there, throwing chord changes with his fingers, conducting the band as we're jamming. I can't believe this is happening. And it's happening in a completely empty Forum. Then he puts on a guitar and starts playing [Led Zeppelin's] 'Whole Lotta Love'. It's f**kin' bad-ass. We do that for ten minutes. It slays. He says, 'We should do that, man. What are you doing next Friday?' "I go back to catering. I'm confused. I don't know if I should stay. One of his guys says, 'He knows you're here. He might call you up.' And his shows are long. I lasted two hours, tried not to drink. But I had to go. And the next Friday I had a fundraiser at my kid's nursery school.
"I never heard from Prince again. But I swear it happened. I swear. And nobody saw it."
Don't worry Dave we believe you.