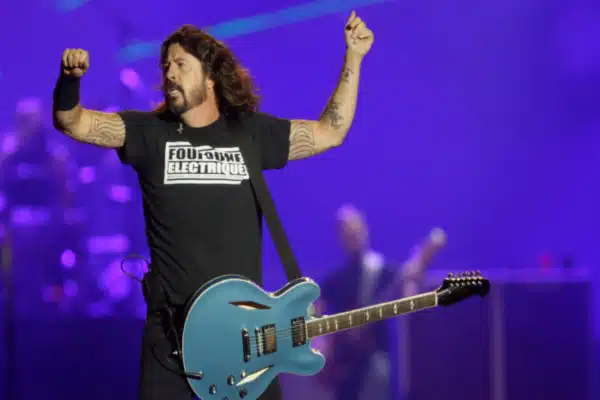 Dave Grohl believes that his daughter Violet and her generation which will "create the next revolution". 
16 year old Violet is the eldest of three children that Grohl shares with his second wife Jordan Blum, who he married in 2003. The other two children are 13 year old Harper and 8 year old Ophelia.
Violet Grohl has also shared the stage with her famous father on many occasions. She featured at the Foo Fighter's Headline Festival at Leeds in 2019.
She also provided backing vocals for the band's recent 'Medicine At Midnight' album.
Last December, also saw Violet Grohl release a special cover of Amy Winehouse's track 'Take My Box', paying tribute to the late singer.
Father and daughter also combined for a joint cover of track 'Nausea'. More covers here.
"It's that generation" – According To Grohl
Since then, proud father Dave Grohl has stated that young musicians and fans of his daughter's age are paving the way.
"What I see is this mutation, this change, this growth and progression that her generation, they're the rock stars now", Grohl told MSNBC. "It's not old guys like me. It's not people like Kanye [West]". 
This interview was also recorded before the tragic death of Grohl's Foos bandmate Taylor Hawkins.
He continued, "It's that generation. Give it five or 10 years, give it three or four years and you'll see how this mutation is happening".
"When we go out on stage, the thing I love about playing our big shows is that I can join everybody in a giant chorus, whether it's a song like 'My Hero' or 'Best of You,' 'Everlong,' 'Learn to Fly,' whatever it is". 
He also added, "When we play those songs, 100,000 people will sing along and there aren't too many things in life that bring those people together like that. They're different walks of life, politics, religion, whatever it is, when you play a song that everybody sings along to, it's a huge energy and it's great."
"So I don't feel like it's our job as a band to create any sort of revolution. It's to bring everyone together in those moments. It's my daughter's job to create that next revolution and I think she will".