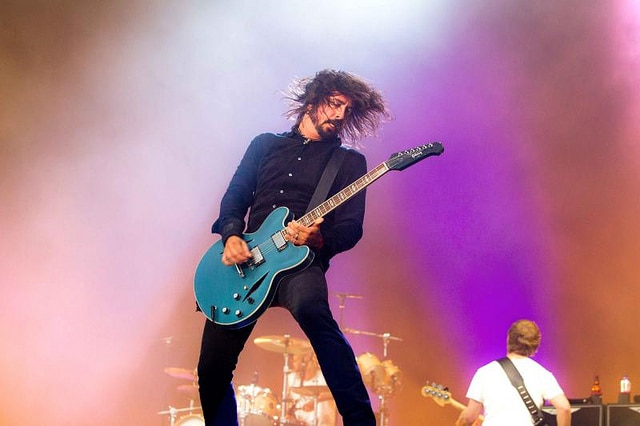 Dave Grohl is a bit of a supergroup aficionado, after forming Them Crooked Vultures back in 2009 he has now formed a new one called Teenage Time Killers. The group features Stone Sour's Corey Taylor, former QOTSA bassist Nick Oliveri and  Mike Skiba of Alkaline Trio.
They have now released their debut LP titled Greatest Hits Vol. 1 online. Other artists involved include Jello Biafra from The Dead Kennedys, Randy Blythe from Lamb Of God, Tommy Victor from Prong And Danzig, Lee Ving from Fear and Mike 'IX' Williams from Eyehategod, as well as many more.
You can stream the album online here, with the official release for the album being on July 31st. The album is streaming live now on the New York Time's music initiative Press Play. The service debuts noteworthy new music and presents new tracks from upcoming new albums.
The LP features 20 tracks, including a handful of deep-cut covers, including the Rudimentary Peni song that the band took their name from. It was recorded at Dave Grohl's 606 studio in Northridge, California and Grohl himself plays bass on 11 tracks.
Former Queens Of The Stone Age's Nick Oliveri plays bass on the track 'Ignorant People'. Corey Taylor provides the vocals on the track 'Egobomb' while Jello Biafra sings on comedian John Cleese's poem 'Ode To Hannity'.
Photo Credit: Ben Houdijk