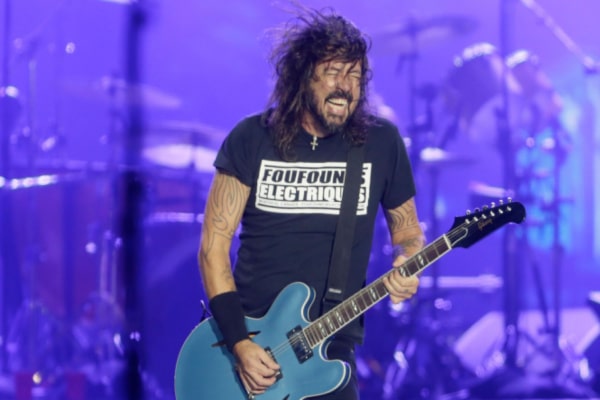 It has been confirmed that Foos frontman Dave Grohl will perform a live solo set at 'VetsAid', a veteran benefit concert set up by Joe Walsh.
Taking place on November 13, the Joe Walsh concert will also include live "special guest" performnances from Dave Grohl, The Black Keys, Nine Inch Nails and the Breeders.
It will take place at the Nationwide Arena in Columbus, Ohio.
Joe Walsh On How "It all started in Ohio"
Confirming this news in a statement, Joe Walsh explained what performing in Ohio means to him personally.
"It all started in Ohio," he said. "Picking up my first guitar as a kid in Columbus set me on a musical journey to Kent State, Cleveland, and then the world". 
"Now it is a great privilege and humbling opportunity for me to share the stage once again with my original James Gang buddies and with this absolutely incredible group of Ohio rock legends like Trent Reznor and Nine Inch Nails, the Black Keys, the Breeders, and Dave Grohl". 
"I believe in Ohio and look forward to celebrating our musical legacy while honoring our veterans with VetsAid 2022″, Joe Walsh added.
All acts performing at this event also originate from Ohio. While Grohl hails from Warren, Ohio, Nine Inch Nails also hail from the state.
Meanwhile, Patrick Carney and Dan Auerbach also hail from Akron, Ohio.
"one last ride"
This benefit concert will be headlined by Joe Walsh's current band James Gang. This band will also include bassist Dale Peters and drummer Jim Fox. This will mark their first live performance together for 15 years.
The reunion gig has been hailed as "one last ride".
"Verified
@joewalshofficial comes home for one historic night of Ohio Rock for VetsAid 2022
James Gang to reunite for "One Last Ride" with special guest @davestruestories. Plus sets from @nineinchnails , @theblackkeys and @thebreeders Sunday, November 13 at @nationwidearena. All net proceeds from the concert will go directly to veterans' services charities", 
VetsAid wrote via Instagram.