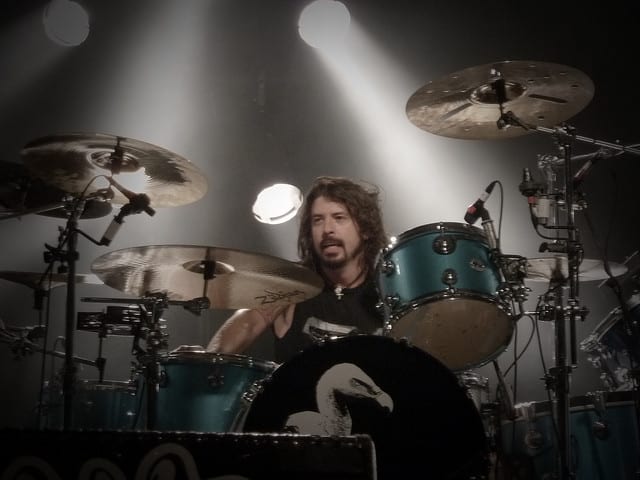 Foo Fighters lead singer Dave Grohl has said that he would "love" to make another album with his supergroup Them Crooked Vultures.
The all-star band is comprised of Led Zeppelin's bass player John Paul Jones, Queens of the Stone Age frontman Josh Homme and of course on drums Mr. Grohl.
The trio first came together in 2009, releasing a self-titled record, the band's one a only LP. After a brief tour, the three members went their separate ways returning to their respective other musical ventures.
Speaking to NME, the foos frontman hinted that the band could finally be reuniting to work on new material.
He said: "I would love to make another Vultures record. I think our biggest hurdle is just a logistic one, that the three of us are all pretty busy."
Them Crooked Vultures isn't the only musical side project Grohl's involved in. He has also combined with Lemmy from Motorhead , Veonom's Cronos and Tenacious D's frontman Jack Black, to create the heavy metal band Probot, releasing a self-titled album in 2004.
Will Grohl be working with the lads again? "Yeah, I mean, I'm trying to think of things that I would revisit. I get asked to do another Probot record all the time, but I can't do it. Those were my favourite singers."
Sonic Highways will be released on November 7th and will be the eighth studio LP from Foo Fighters . The new record clocks in at 44 minutes and features eight new tracks.
The album features a number of guest features, including Cheap Trick's Rick Nielson, Death Cab For Cutie's Ben Gibbard and The Eagles' Joe Walsh. Nielson played guitar on their first single 'Something From Nothing'.
Sonic Highways track list:
1. Something From Nothing
2. The Feast and The Famine
3. Congregation
4. What Did I Do?/God As My Witness
5. Outside
6. In The Clear
7. Subterranean
8. I Am A River