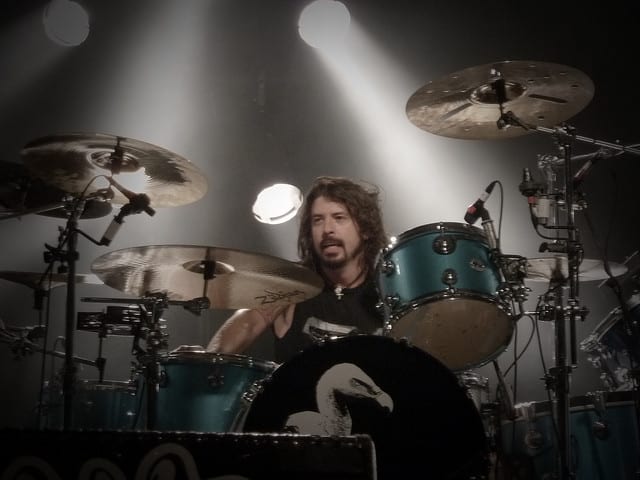 Foo Fighters' frontman Dave Grohl is working with on an interesting side project at the moment called Teenage Time Killer.
The supergroup has just signed a new record deal with Rise records and are planning to release an album in next year.
The band is made up of several different musicians including Dave Grohl, Slipknot's singer Corey Taylor, former Queen's Of The Stone Age bass player Nick Oliveri and Lamb Of God's Randy Blythe. There will also be a bunch of other artists contributing to the project.
Kerrang reports that Teenage Time Killer recorded at Grohl's 606 Studio in California, using the famous Sound City mixing board, immortalised in the music documentary 'Sound City'.
Founder Reed Mullen, drummer with Corrosion of Conformity, has described their sound as punk meets metal.
Commenting to NME about the multitude of participants, Mullen said: "We had all these other folks who wanted to participate. It's a very good mixture – people are going to be pleasantly surprised. It's pretty cool."
There has been a little info released about one of the album's songs, the band will be covering John Cleese's poem 'Ode To Hannity', with Dead Kennedy's Jello Biafra taking on the vocals.
Check out the full list of Teenage Time Killer members below:
Randy Blythe (Lamb Of God)
Dave Grohl (Foo Fighters)
Corey Taylor (Slipknot, Stone Sour)
Nick Oliveri (ex-Queens Of The Stone Age)
Neil Fallon (Clutch)
Jello Biafra (Dead Kennedys)
Doyle Wolfgang Von Frankenstein (Misfits)
Keith Morris (Black Flag)
Lee Ving (Fear)
Tommy Victor (Prong)
Aaron Beam (Red Fang)
Pete Stahl (Scream, Goatsnake)
Greg Anderson (Sunn-o)))), Goatsnake)
Karl Agell (ex-Corrosion Of Conformity)
Tairrie B. Murphy (My Ruin)
Mick Murphy (My Ruin)
Vic Bondi (Articles Of Faith)
Clifford Dinsmore (Bl'ast!)
Pat Hoed (Brujeria)
Tony Foresta (Municipal Waste, Iron Reagan)
Phil Rind (Sacred Reich)