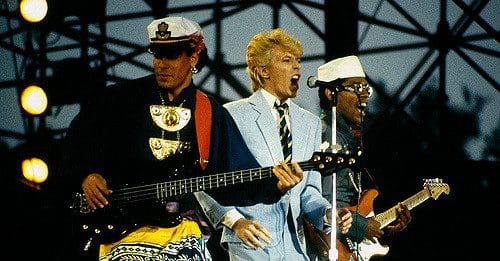 It was Grammy's night in Hollywood last night and David Bowie ran supreme. He posthumously picked up a whopping five Grammys.
Bowie won Best Rock Performance, Best Rock Song and Best Alternative Music Album for Blackstar and its title track, leaving acts like Iggy Pop, Metallica, Highly suspect and Disturbed trailing in his shadow.
It was also a big night for Megadeth who finally picked up their long awaited Grammy. Megadeth had previously been one of the most nominated acts that had never won the award. However, there was a bit of an awkward moment when the Grammy live band played Metallica's "Master of Puppets" after Megadeth's win was announced.
Along with losing to Megadeth, Metallica had a painful night when their much hyped performance with Lady Gaga hit a snag when Hetfield's mic wasn't working and he had to share with Gaga.
Below are all the awards in the Rock Categories and highlighted are the winners.
Best Metal Performance
Baroness, "Shock Me"
Gojira, "Silvera"
Korn, "Rotting in Vain"
Megadeth, "Dystopia" (Winner)
Periphery, "The Price Is Wrong"
Best Rock Performance
Alabama Shakes, "Joe" (Live From Austin City Limits)
Beyonce Featuring Jack White, "Don't Hurt Yourself"
David Bowie, "Blackstar" (Winner)
Disturbed, "The Sound of Silence" (Live on Conan)
Twenty One Pilots, "Heathens"
Best Rock Song
David Bowie, "Blackstar" (Winner)
Highly Suspect, "My Name Is Human"
Metallica, "Hardwired"
Radiohead, "Burn the Witch"
Twenty One Pilots, "Heathens"
Best Rock Album
Blink-182, California
Cage the Elephant, Tell Me I'm Pretty Winner
Gojira, Magma
Panic at the Disco, Death of a Bachelor
Weezer, Weezer
Best Alternative Music Album
Bon Iver, 22, A Million
David Bowie, Blackstar (Winner)
PJ Harvey, The Hope Six Demolition Project
Iggy Pop, Post Pop Depression
Radiohead, A Moon Shaped Pool
Photo Cred: Mark Vitullo
New Music on NOVA with LDV.
For 2017 you need a van that gives you more. That van is LDV – more value, more power, more innovation from ldv.ie