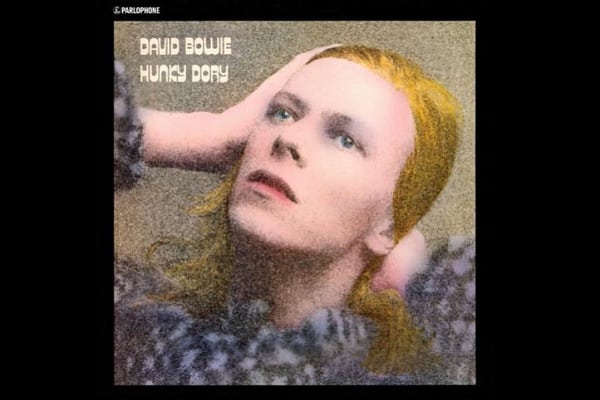 David Bowie's Hunky Dory is set to reissue as a vinyl picture disc next month, marking the iconic album's 50th anniversary. Parlophone Records announced the upcoming reissue of the fourth studio project, which hits include Changes, Oh! You Pretty Things, and Life on Mars?.
Hunky Dory marked the first ever recorded jam of David and guitarist Mick Ronson, bassist Trevor Bolder, and drummer, Woody Woodmansey. Originally releasing December 17th, 1971, the album was produced by Bowie, and Ken Scott, with the latter sharing a new take on Changes. Dropping yesterday, the track is a special teaser for fans to enjoy before the album release on January 7th – the day before the late musician's would-be birthday.
Explaining in a statement, Ken Scott said the new version of Changes "is a fresh look at David's classic. When listening to the original multi-track I discovered a few things that I had eliminated from the original mix and also a completely different sax solo at the end. It was those things that led me to try a new mix, trying for a slightly harder, more contemporary edge to it."
Changes (2021 Alternative Mix) released with a lyric video featuring previously unseen photographs of David from the Hunky Dory sessions. The forthcoming reissue will include a 2015 vinyl remaster of the 1971 album, and a poster featuring album artwork – pre-order here.
Meanwhile, a live-streamed event will take place to mark David's 75th birthday next month, rightly called A Bowie Celebration. The late icon's band will play alongside a host of famous fans, including Ricky Gervais, Duran Duran's Simon Le Bon and Gary Oldman.
Long-time Bowie keyboardist, Mike Garson told Rolling Stone that it is "an honour to be able to continue to share David Bowie's music with the world. I'm excited for everyone to be able to experience this very special show we've got in store in celebration of what would have been David's 75th birthday with the bandmates he recorded and performed with, plus a great group of guest artists who he was such an influence to."
Changes (2021 Alternative Mix)
Full Hunky Dory album
https://www.youtube.com/watch?v=5xBry9zavNM