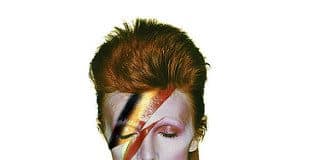 If you missed out on your chance to see David Bowie's Lazarus musical, you will soon have an opportunity to experience the show in virtual reality no less!
Attendees of the V&A museum's 2017 Performance Festival will be able to enjoy the musical through VR headsets.
Lazarus, the musical, inspired by Walter Trevis' novel, The Man Who Fell To Earth, tells the story of Thomas Newton, an extra-terrestrial whose journey to Earth comes with complications. Lazarus features songs written and composed by the late David Bowie who also co-wrote it with award winning Irish playwright Enda Walsh.
The final curtain just dropped on it's time at London's Kings Cross Theatre at the start of this year, having run from November 8, 2016 to January 22, 2017, following a six-week stint in New York in late 2015 and early 2016.
At the V & A event, the recording process will be explained and attendees will be invited to view the show through a virtual reality headset. The museum recorded the production during a show in January. The clips being used were recorded at one of the performances at King's Cross Theatre and will feature the musical's stars Michael C Hall, Amy Lennox and Sophia Anne Caruso.
Ahead of the VR experience, Emily Harris, the National Video Archive Of Performance curator, will speak about the making of the recording. The audience will then be invited to take part in the experience via the use of VR headsets.
Footage of the production will be screened during the From VHS To VR event at the Lydia & Manfred Gorvy Lecture Theatre as part of the V&A's 2017 Performance Festival. The festival is due to take place between April 21-30 at the south London museum and the Lazarus screening will be on the final day.
According to the description of the talk, it will cover "the practice – past, present and future – of capturing theatre on film – from the National Theatre's production of Richard III, starring Ian Mckellen, recorded in 1992, right through to the VR recording of the David Bowie musical Lazarus. The panel will feature filmmakers from the V&A and the RSC [Royal Shakespeare Company]."
Admission to the event is free and more information can be found on the V&A's official website.
Photo Credit: MarcWathieu