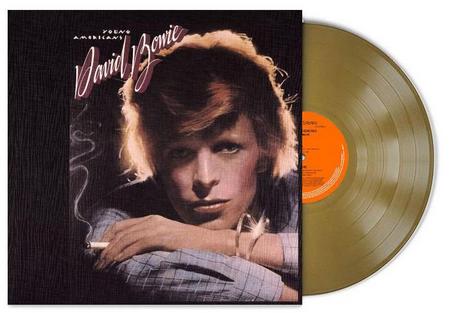 In commemoration of the 45th anniversary of David Bowie's 1975 Young Americans collection, the album will be reissued on September 18th.
Parlophone Records will release a special limited edition "brick and mortar" exclusive gold vinyl edition of the classic set.
Young Americans, which was Bowie's ninth studio album, created a sound during sessions in Philadelphia and New York that he described as "Plastic Soul."
David Bowie's Young Americans was released on March 7th, 1975 and was produced by Bowie, Harry Maslin, and Tony Visconti.
Young Americans peaked at Number Nine in the U.S. and Number Two in Britain.
The album's title track peaked at Number 28 on the Billboard Hot 100, with "Fame" scoring Bowie the first of his two career U.S. Number One singles.
John Lennon appeared on two tracks — a remake of his Beatles' classic "Across The Universe" as well as co-writing the song "Fame."
Only days before his death in 1980, John Lennon looked back fondly on his brief — but powerful — collaboration with Bowie saying, "Bowie was around and we were talkin' and that — he'd say, 'Come down,' and I found myself doin' that. So, he's fiddlin' round, he writes 'em in the studio. Y'know, he goes in with about four words and a few guys and stars layin' down this stuff. And he has virtually nothing — he's makin' it up in the studio. So, I just contributed whatever I contributed, y'know? Like, backwards piano and 'oooh,' and a couple of things — repeat of 'Fame.' And then we needed a middle-eight, so we took some Stevie Wonder middle-eight and did it backwards, y'know — we made a record out of it, right? So, he got his first Number One — so I felt that was, like, a karmic thing, y'know, with me and Elton (John) I got my first Number One (with 'Whatever Gets You Through The Night') and I passed it on to Bowie and he got his first Number One — and I like that track, y'know?"
The tracklisting to the 45th anniversary edition of David Bowie's Young Americans:
Side 1
"Young Americans"
"Win"
"Fascination"
"Right"

Side 2
"Somebody Up There Likes Me"
"Across The Universe"
"Can You Hear Me"
"Fame"