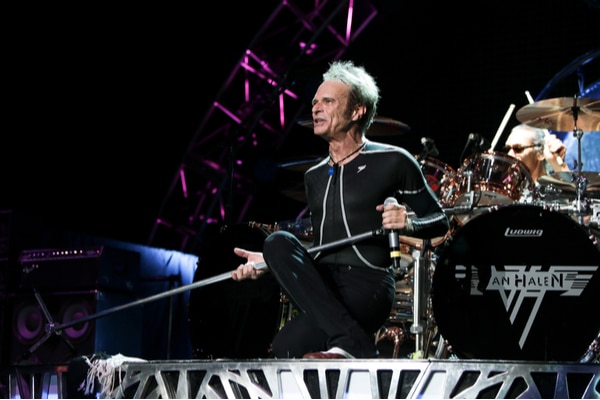 David Lee Roth has issued an emphatic response to Gene Simmons' recent insults against the Van Halen frontman.
Simmons had confirmed that Roth would not be supporting KISS on their farewell tour.
"But it bears noting that during Dave's heyday, nobody did what he did", he had said.
Having hailed Roth as the "ultimate frontman", Simmons also added, "Not (Robert) Plant, not Rod Stewart, nobody. He took being a frontman way beyond anything". 
"modern day Dave"
However, Simmons then aimed some criticism at David Lee Roth. The KISS bassist suggested that Roth was not "in his prime" anymore.
"I prefer to remember Elvis Presley in his prime. Sneering lips, back in Memphis, you know, doing all that", Simmons said. "I don't want to think of bloated naked Elvis on the bathroom floor".
"Roth to Simmons" 
Following this, David Lee Roth took to social media to issue his retort to Simmons.
Using Instagram, the rocker uploaded an image of a child raising his middle finger. A message on this photo also read "Simmons to Roth". He then shared it 18 times on his profile.
Check it out for yourselves here.
Earlier in August, Dee Snider became the latest musician to dismiss Gene Simmons' claims that "rock is dead", calling these comments "self serving bulls**t". 
Snider said, "I mean, I love him, I love Kiss, but I wish he would just shut the hell up with this. And he doubles down on it. This statement of 'rock's dead, there are no rock stars,' all that shit, it's so self-serving and self absorbed. It's selfish!".
"It's like, 'It's not doing it my way, it doesn't have value. It's not the way it was when I was coming up, so it's not rock 'n' roll anymore.' Anyway, that's bulls**t!".
Simmons himself has also blasted "idiot anti vaxxers" and former US president Donald Trump. More on that report from Nova here.