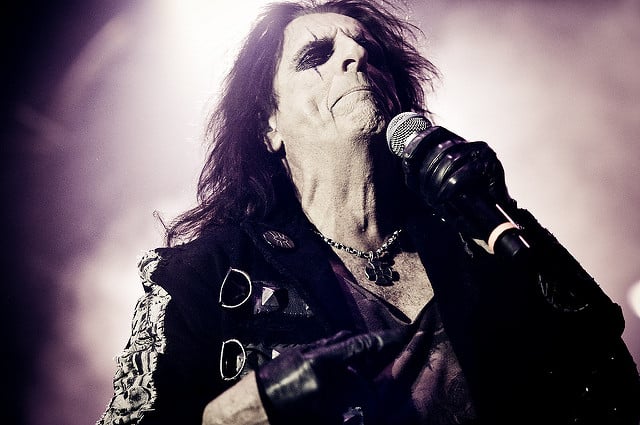 The 'God Father of Shock Rock' has had a career spanning over five decades. And it was on this day in 1977, he took his first solo tour, Welcome to My Nightmare to Sydney, Australia. The concert showcased more theatrics than ever, including an 8-foot-tall furry Cyclops (as you do.)
Cooper was enjoying immense success at the time. He had just released his first solo LP, of the same name and a television special The Nightmare, followed. The TV special later gained a Grammy Awards nomination for Best Video Album and was regarded as another ground-breaking moment in rock history. On top of that, a concert film, also called Welcome to My Nightmare was released to theatres in 1976. The film was produced, directed, and choreographed by West Side Story cast member David Winters and filmed live at London's Wembley Arena.
Cooper was on a roll when he arrived in Oz in 1977, where he played to a record breaking audience of 40,000! It was the largest crowd to attend a rock concert in the country's history, at that time! While in Oz, he hit major cities Perth, Adelaide, Melbourne, Sydney and Brisbane.
The shock rocker got into a spot of bother during the tour when, after the Sydney show he was placed under house arrest at his hotel until he posted a bond for $59,632 (€56,259.)That amount was the sum that a promoter claimed to have paid Cooper for a 1975 Australia tour he never actually undertook. It was cleared up thankfully with Cooper and the promoter eventually arriving at a court settlement when it was found that the promoter did not fulfill his part of the agreement either!
We are so excited to see the legend himself live later this year for his Dublin concert!
Nova's own Alice Cooper is set to play at Dublin's Olympia Theatre on Wednesday 8thNovember, 2017.
Tickets are available from Ticketmaster, from €54.50 including booking fee and restoration levy.
You can listen to Alice Cooper here on Nova on Saturdays from 9pm.
Photo Cred: Vesa