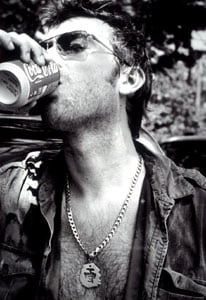 Birthday Boy Damon Albarn celebrates his 49th birthday today! The Singer-songwriter, multi-instrumentalist and record producer was born on this day in London in 1968.
Albarn gained success in the 90's with alternative rock band Blur, had a highly publicised rivalry with fellow Britpop group Oasis and later formed "virtual band" Gorillaz.
Blur, consisting of singer/keyboardist Albarn, his childhood friend, guitarist/singer Graham Coxon, bassist Alex James and drummer Dave Rowntree performed live for the first time in the summer of 1989.
With Blur he scored a 1994 UK No.1 with the group's third album Parklife, which spent over 2 years on the UK chart. Parklife is regarded as one of Britpop's defining records and Blur won four awards at the 1995 Brit Awards, including Best Band and Best Album for Parklife. The band also gained a 1995 UK No. 1 with 'Country House'.
The release of their fourth album's lead single 'Country House' played a huge part in Blur's public rivalry with Manchester band Oasis termed "The Battle of Britpop". Partly due to increasing antagonisms between the groups, the two music rivals decided to release their new singles on the same day. The battle became a media phenomenon with NME calling the much published event, "The British Heavyweight Championship". 'Country House' ultimately outsold Oasis' "Roll With It" " by 274,000 copies to 216,000, becoming Blur's first number one single.
Maybe a little known fact, (well we were surprised anyway!) Albarn studied acting at the East 15 Acting School in Debden, but left after the first year. The Londoner even starred in a movie; Antonia Bird's 1997 film Face alongside Ray Winstone and Robert Carlyle. Albarn was also featured in Gunar Karlsson's 2007 film Anna and the Moods, along with Terry Jones and Björk.
Albarn had continued music success with Gorillaz, the 'virtual band' he formed along with comic book artist, Jamie Hewlett which had the 2001 UK No.4 single, 'Clint Eastwood.' The band's music is a collaboration between various musicians, Albarn being the only permanent musical contributor.
Hewlett and Albarn met in 1990 when Blur guitarist Coxon, a fan of Hewett's work asked him to interview the group. The interview was published in Deadline magazine, home of Hewlett's comic strip, Tank Girl. The band's 2001 debut album Gorillaz sold over seven million copies and earned them an entry in the Guinness Book of World Records as the Most Successful Virtual Band
Albarn is premiering new Gorillaz music tonight when he appears on MistaJam's BBC show.
Photo Credit: 愛 力思 +