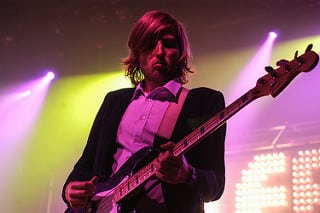 Birthday Boy Mark Stoermer turns the big 4 – 0 today!
The Killers bassist, is originally from Houston, Texas but his family moved to Las Vegas when he was three years old. A beneficial move, as it was in Vegas he met his future band mates!
Stoermer was the final member to join the group who have become the most successful rock band to ever emerge from the state of Nevada! They've sold an estimated 22 million records worldwide and have also achieved worldwide success as a live band. The rockers have performed in over 50 countries and on six continents. Most recently playing last weekend's Glastonbury.
(We'd imagine Stoermer might be keeping the b-day celebrations a bit low key after the festivities of last weekend's fest.)
The Killers returned to the same stage they made their festival debut at in 2004. The band surprised fans with a secret set at a packed-out John Peel stage at Glastonbury festival today (Sunday, June 25). Walking out to 'Teenage Kicks' by The Undertones (the famed favourite song of the late DJ Peel), frontman Brandon Flowers joked: "They say you play the John Peel Stage twice in your career, once on the way up and once on the way down. It's good to be back." They played a collection of classic hits, such as 'Mr Brightside', 'Somebody Told Me' and 'Smile Like You Mean It', as well as new single 'The Man'.
In addition to his work with The Killers, Stoermer has released two solo albums, Another Life in 2011, and Dark Arts in 2016. Stoermer also joined The Smashing Pumpkins to tour in support of the band's ninth studio album, Monuments to an Elegy (2014) and produced Howling Bells third studio album The Loudest Engine (2011).
The Killers have just finished recording their fifth studio album; no release date has been announced yet. It's titled Wonderful Wonderful – and will follow on from 2012's Battle Born. The new album was produced by Jacknife Lee during sessions in Las Vegas and Los Angeles.
The band have also announced new live dates with a date in London's Hyde Park August 7th. As of yet there are no Dublin dates, but we're keeping our fingers crossed!
A few fun facts about the man himself:
-Stoermer has been dubbed 'The Gentle Giant' by bandmates and fans due to his quiet but kind nature and the fact that he is 6ft 5′.
-He studied philosophy and music at UNLV He played trumpet in High School
-He worked as a medical courier before becoming famous.
Photo Credit: Chris Boland