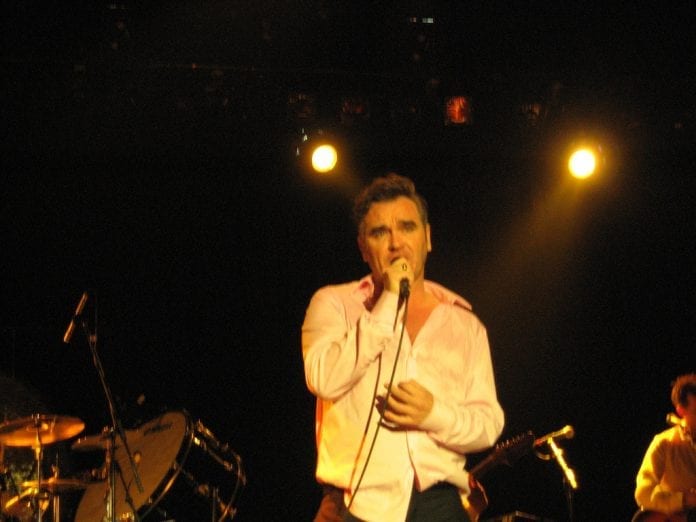 On this day, in 1985, The Smiths' second studio album Meat Is Murder went to #1 on the UK album chart. The album was released on 11th February 1985 by Rough Trade Records.  Meat Is Murder was the bands first and only #1 album in the UK. The album lasted thirteen weeks on the UK album chart and reached #110 on the US album charts.
Both Morrissey and Johnny Marr were disappointed with the production outcome of their debut album Hateful of Hollow, so they decided to self produce Meat Is Murder, with the assistance of sound engineer Stephen Street (now acclaimed producer for Blur, The Cranberries and Kaiser Chiefs).
Meat Is Murder is far more hostile than their debut. It champions Morrissey's political and pro-vegetarian ideology. Morrissey forbade the rest of the band from eating meat. The Smiths used a picture of a young soldier in Vietnam, with the inscription "Meat Is Murder" on his helmet. The picture originally came from the 1968 documentary In the Year of the Pig and the words "make love not war" were actually inscribed in the soldier's helmet.
One of the albums biggest successes; 'How Soon Is Now?' was not originally on the album. It was supposed to be a B-side to 'William, It Was Really Nothing' but was added to the US version after becoming a massive hit on the American and Canadian alternative charts. It was later added to the UK version as track 6.
Last year, the album was adapted to become the soundtrack of an animal rights game. PETA developed the game to encourage people to have meat free diets.
The critical reception of the album was generally positive. In 2003, Rolling Stone ranked it 295th on the 500 greatest albums of all time list.
Track list:
The Headmaster Ritual
Rushole Ruffians
I Want The One I Can't Have
What She Said
That Joke Isn't Funny Anymore
Nowhere Fast
Well I wonder
Barbarism Begins at Home
Meat Is Murder