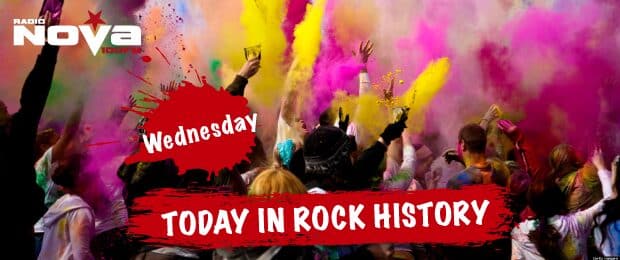 It's important to know your rock history, here at Radio NOVA we bring you ten rock stories from the sixties, seventies, eighties, nineties and the noughties.
On this day in rock history: January 7th.
1964: The Beatles recorded a seven-song session at the BBC, playing 'I Want to Hold Your Hand', 'Roll Over Beethoven' and 'Johnny B. Goode'
1968: A San Franciscan radio station holds a listeners vote for who should be in political office. Bob Dylan is elected President, George Harrison, US ambassador to the UN, Jefferson Airplane Secretaries of Transportation and the Grateful Dead are all elected Attorneys General.
1970: The owner of the famous Woodstock farm, Max Yasgur, is sued by his neighbours for $35,000 for damage caused to their property while the music festival took place.
1971: Black Sabbath release their second album Paranoid. The band wanted to name the LP 'War Pigs', but their record company was fearful of the controversy the title would bring during the ongoing Vietnam War.
1980: The Stranglers' frontman Hugh Cornwall was found guilty of drugs charges and sentenced ti three months in jail. He was caught with heroin, cocaine and cannabis.
1980: Pink Floyd release the single 'Another Brick In The Wall (Part 2)'. The single went to number 1 in America and the UK.
1993: R.E.M. performed a charity show for Greenpeace in front of 500 fans, the show was recorded by a solar powered mobile studio.
1994: Oasis began recording their seminal first record Definitely Maybe. It was the fastest selling debut LP of all time, selling 12 million copies worldwide.
1999: After eight years of marraige, Rod Stewart files for divorce from his wife Rachel Hunter.
2003: A magazine titled 'The Beatles Book Monthly' stopped printing after 40 years. The magazine was started in 1963 by author Sean O'Mahony.