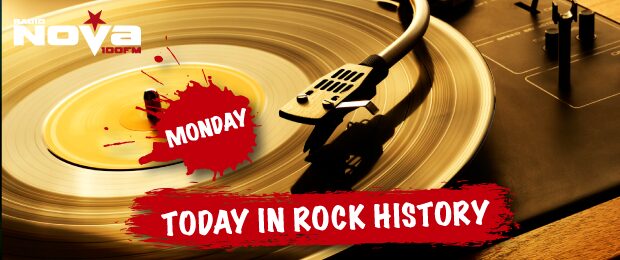 It's important to know your rock history, here at Radio NOVA we bring you ten rock stories from the sixties, seventies, eighties, nineties and the noughties.
On this day in rock history: November 10th.
1966: British newspapers break the news that the Beatles will indeed refuse all future offers to tour.
1973: Elton John started an eight week run at number 1 on the US album chart with Goodbye Yellow Brick Road. The LP which had several working titles such as 'Vodka' and 'Tonics and Silent Movies', 'Talking Pictures', is his best selling studio album with over 15 million copies.
1973: John Lennon meets with legendary producer Phil Spector in New York to begin work on an album of oldies covers entitled Rock 'n' Roll.
1975: David Bowie was at number 1 on the UK singles chart with 'Space Oddity', the track was first released in 1969 to tie in with the Apollo 11 moon landing.
1984: After setting a new record for advanced orders, 1,099,500 copies, Frankie Goes To Hollywood went to number 1 on the UK album chart with their debut Welcome To The Pleasure Dome.
1994: Led Zeppelin's Jimmy Page and Robert Plant perform an all-acoustic version of "Stairway To Heaven" while visiting a Japanese talk show.
2002: Mick Jagger, Keith Richards, Tom Petty, Elvis Costello, Lenny Kravitz, and Brian Setzer all guest starred on the Simpsons episode 'How I Spent My Strummer Vacation'.
2003: David Bowie is forced to cancel the remainder of his concert in Nice, France, when laryngitis causes his voice to go out completely in the middle of 'Ziggy Stardust.'
2003: An emotional tribute to the recently-deceased Johnny Cash is held at Nashville's famous Ryman Auditorium, featuring classic Cash songs performed by Sheryl Crow, Kris Kristofferson, Willie Nelson, Kid Rock, and Steve Earle, among others.
2008: Coldplay were declared the biggest-selling act of 2008 at the World Music Awards held in Monaco. The band picked up the prize along with the Rock Act Of The Year award after their current album Viva La Vida Or Death And All His Friends topped charts around the globe.