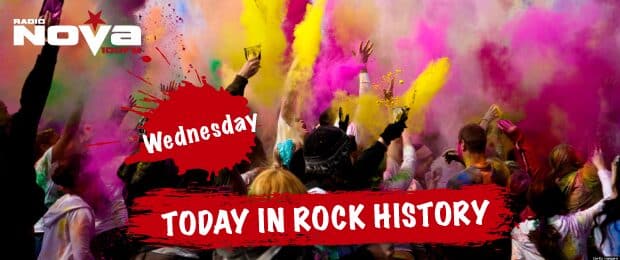 It's important to know your rock history, here at Radio NOVA we bring you ten rock stories from the sixties, seventies, eighties, nineties and the noughties.
On this day in rock history: October 15th.
1965: Jimi Hendrix signs his first recording contract — for one dollar plus one percent of his royalties.
1966: Pink Floyd performed for the launch of the International Times (which became the first and longest running British hippy paper), at London's Roundhouse. Beatle Paul McCartney attended the event in Arabian dress. The flyers for the evening stated: 'Bring your own poison, bring flowers & gas filled balloons'. Admission was 10 shillings (50p) on the door.
1968: The former New Yardbirds, now known as Led Zeppelin, perform their first gig under that name at England's Surrey University.
1973: Having experienced respiratory problems for the four days, Elvis Presley is admitted to a Memphis Hospital, where Elvis' doctor, discovers the singer's addiction to Demerol.
1973: The Rolling Stones' Keith Richards is found guilty in France, of possessing and intending to distribute both marijuana and heroin. He receives a one-year suspended sentence, is fined 5,000 francs, and is forbidden from entering the country for two years.
1988: Bon Jovi started a four-week run at number 1 with their fourth release New Jersey. The album produced five Billboard Hot 100 Top 10 singles, the most top ten hits to date for a hard rock album.
1995: Paul and Linda McCartney were the guest voices on Fox-TV's The Simpsons in an episode called "Lisa the Vegetarian". Macca's stipulation for appearing was that Lisa's decision to become a vegetarian would be a permanent character change, to which producer David Mirkin agreed.
1996: Motley Crue drummer Tommy Lee was charged with assault for attacking a cameraman who was trying to take pictures of Lee and his wife Pamela Anderson Lee outside an L.A. club. Lee was sentenced to four months in prison.

1997: Michael Jackson played the last date on the History Tour at King's Park Rugby Stadium, Durban, South Africa. During the tour, Jackson performed 82 concerts in 58 cities to over 4.5 million fans, visiting 5 continents and 35 countries.
2000: U2 went to number 1 on the singles chart with 'Beautiful Day', the group's fourth single taken from their album All That You Can't Leave Behind.