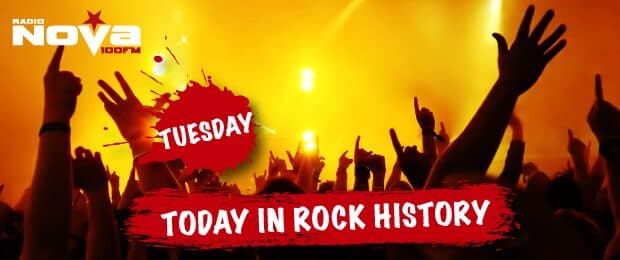 It's important to know your rock history, here at Radio NOVA we bring you ten rock stories from the sixties, seventies, eighties, nineties and the noughties.
On this day in rock history: October 28th.
1967: 'Diana Ross and the Supremes Greatest Hits' goes to number 1 on the US album chart. Pictured on the LP's cover is original member Florence Ballard, by the time the album is released the singer has been fired from the group and replaced by Cindy Birdsong.
1968: Cynthia Lennon divorces her husband John Lennon.
1972: The Who's song 'Join Together' is chosen as the official song of the United States Council For World Affairs.
1978: An animated cartoon titled 'Kiss Meets the Phantom of the Park', airs in the U.S. The four rockers deal with a deranged scientist who goes crazy in an amusement park.
1985: Bob Dylan releases the box set Biograph, it consists of 53 unreleased tracks from 1962 to 1981.
1997: R.E.M. drummer Bill Berry announced that he was leaving the group after 17 years, to become a farmer.
1999: During a Kenny Rogers show in Texas, a fan is injured by a frisbee Kenny throws randomly into the audience. According to the fan's subsequent two-million-dollar lawsuit, the "accident" has left him impotent.
2004: Courtney Love was ordered to stand trial on a charge of assault with a deadly weapon. Love allegedly attacked her with  a bottle and a lit candle. Ms King told the court Ms Love was "vicious" and "erratic". She added that Ms Love then sat on her, pulled her hair and pinched her left breast, before managing to flee.
2008: A statue honouring AC/DC's Bon Scott was unveiled at the Fremantle Fishing Boat Harbour in Western Australia. Although born in Scotland, Scott grew up in Fremantle after his family emigrated to Australia in 1952.
2011: After a Metallica concert in India was called off, fans destroyed the stage and vandalize equipment. Metallica had been booked to play in Delhi, but postponed the show after a security barrier in front of the stage collapsed. The promoters of the gig, were arrested on fraud charges after they refused to refund tickets. Around 25,000 people had purchased tickets to see what would have been Metallica's first-ever concert in India.