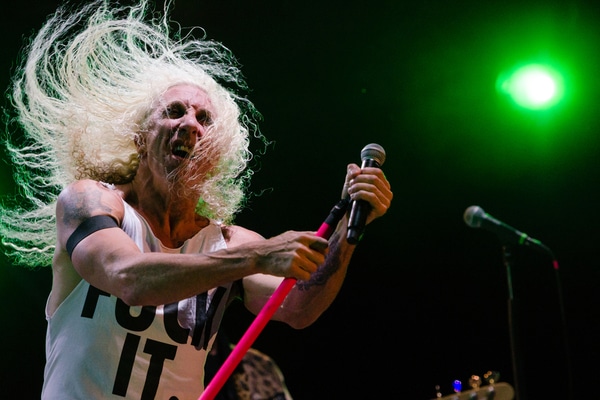 Following on from the success of his transformative, 2018 album For The Love Of Metal, Dee Snider is back with Leave A Scar. Due to release on July 30th, Snider's upcoming album is celebrated with the teasing of lead single, I Gotta Rock Again.
This new album will be Dee Snider's fifth solo project and the record is being release via Napalm Records. The Twisted Sister frontman has described I Gotta Rock Again as the "starting gun for this album" and the "driving motivation" behind his studio return.
"At the end of 2019, I had felt my recording and live performing was over, but I didn't announce it to the world," Dee said. "I mentally had decided I was done. But the state of things in 2020 had other plans for me. Between COVID and the political state around the globe, I found myself yearning – yes, I yearn – to get back in the studio. In the immortal words of Ice Cube, 'I got somethin' to say!'".
Dee added that he knew by the end of 2020 that he just had to get back into the studio. "For the first time since the '90s, I wanted – no, needed – to be a part of the writing process."
"I reached out to my producer Jamey Jasta and told him I was ready to make another record," recalls Dee. "Leave a Scar is filled with messages to and for the silent voices in the world who need someone to speak out on their behalf. This is my purpose."
Like Snider's 2018 creation, For the Love of Metal, Leave A Scar was produced by Hatebreed singer James Jasta. Drummer Nick Bellmore coproduced, mixed and mastered the album, which is now available to preorder in a variety of formats.
The new album is said to have a "We're Not Gonna Take It" attitude, one mantra which Dee lives by. Snider was recently very vocal about disgraced Iced Earth guitarist, Jon Schaffer, who Snider labelled a "piece of s***" who is "an embarrassment to the metal community". Snider shared his outrage two days after the Iced Earth guitarist pleaded guilty for his role in the U.S. Capitol riots, January 6th. "First, he shames us with his terrorist actions in DC, and THEN he becomes a rat to his own people for a lighter sentence! MAN THE F*** UP! Own your s***! If you do the crime, do the time!"