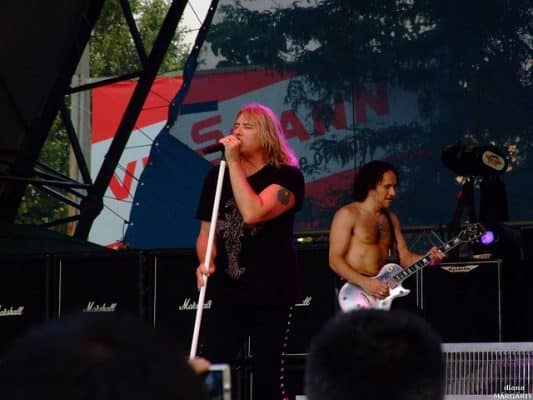 Def Leppard have given their thoughts on the upcoming Guns N' Roses reunion. Guitarist Phil Collen said that their reunion is "f**cking lame".
He said that he is not impressed with the reunion and that he doesn't like bands that reunite after being years apart. In a recent interview with The Telegraph, he said "We obviously think it's really f**king lame," adding that "I love Guns N' Roses, I think they're really cool, I'd love to see Slash and Axl and Duff play together, that's great. But I think it's f**king lame considering we've been hardcore."
The Def Leppard man continued by saying "Our integrity's still intact, we've never split up. We've gone through if someone had a little sniffle or something, we soldier on."
He aslo explained how there were some rough patches in their band as well, but they stayed together "Someone dies, someone loses an arm, someone gets cancer, we soldier on. [With Guns N' Roses] if someone has a little barney backstage, they can't deal with each other. I know it's difficult, but I do think it's pretty lame when you compare anyone else to us."
His fellow Def Leppard bandmate Joe Elliot recently said that he would love to see a full reunion of the Guns N' Roses classic lineup, with both Steven Adler and Matt Sorum sitting behind the drum kit during the band's live shows.
Photo Credit: diana Margarit