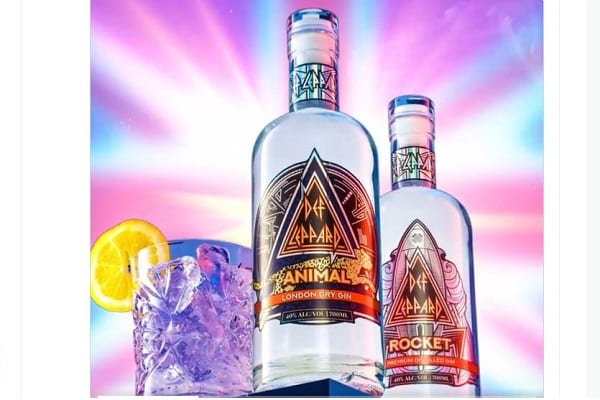 To celebrate their 45th anniversary, Def Leppard have announced the release of their own alcohol.
The band have confirmed the release of two new gins, with each drink named after a song from their successful 1987 album 'Hysteria'.
One of the Gins is named after Def Leppard's track 'Rocket'. A press release has called it "the rich and clear character of juniper, lavender, herbs and citrus".
The geniuses behind this drink were also inspired by the lavender labryinths at Sheffield Manor Lodge in Def Leppard's home town of Sheffield, England.
"high intensity of flavours"
The other liquor is named after Def Leppard's track 'Animals'. 
It is a London Dry Gin which also boasts "high intensity of flavours". It has also been described as "heavy with juniper, lemon, and botanicals". The drink also has a "complex, full bodied and long lasting" finish.
The labels for these liquors also take inspiration from the artwork from that 1987 Def Leppard album.
The band also joined forces with Bands for Fans to create these Gin products.
These drinks will be made available in the UK, Europe, the Nordics, Sweden, and the US. You can also get your hands on these drinks here. They retail at $34.99.
Bands for Fans have worked with several high profile bands in the past. These include KISS, Scorpions, Judas Priest, Slayer and Motorhead.
Speaking of Def Leppard, the band released a new single 'Take What You Want' back in April. A lyric video was also released for the track that same month.
It featured on the band's latest and twelfth album Diamond Star Halos, which arrived on May 27. More on this report from Nova here.
Earlier this month, our very own Marty Miller also got chatting to Def Leppard's Joe Elliot. Elliot spoke about the band's latest album, and their current live tour, which features Joan Jett and Motley Crue.