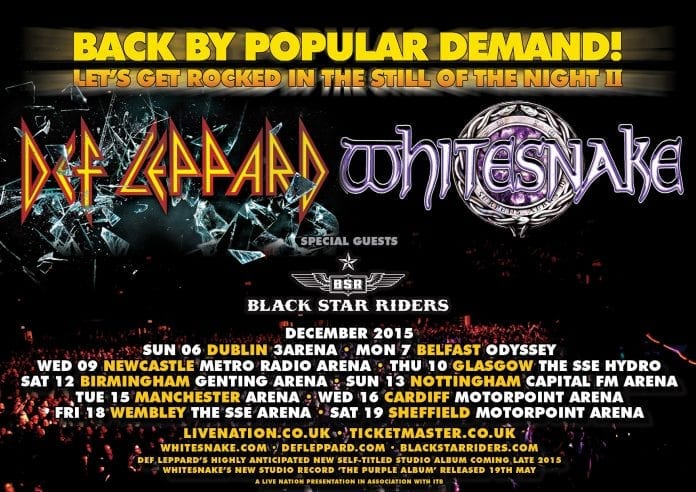 Eighties rockers Def Leppard and Whitesnake are coming to Ireland later this year.
The joint headline tour of Ireland & Britain will arrive on Irish shores in early December, with support from Black Star Riders.
Def Leppard and Whitesnake will be performing at Dublin's 3Arena on Sunday 6th December and the Odyssey Arena in Belfast on Monday 7th December.
Speaking about the co-headline tour, Def Leppard singer Joe Elliott said: "I am very excited to be working with Whitesnake again; we had such a wonderful time when we did it back in 2008. It's a great experience for rock fans to be able to see two great live bands on the same stage on the same night."
Def Leppard are often described as a band you must see live. The Sheffield rockers have sold over 100 million albums worldwide and they've a new upcoming LP, expected to be released later this year.
C0-headliners Whitesnake are one of the most recognisable rock groups from the eighties. They've had multiple top ten albums in the UK, including 1980's Ready An' Willing, 1981's Come An' Get It, 1982's Saints & Sinners and 1984's Slide It In.
To celebrate the news that Def Leppard & Whitesnake are coming to Dublin in December, we're giving away albums and tickets right across the weekend on Radio Nova!
Every hour, we've got best of albums from Def Leppard & Whitesnake to give away and everyone who wins, goes into a draw just before 6 tonight to get the ultimate VIP upgrade.
If you're today's overall winner you'll win a pair of tickets to the gig, as well an overnight stay in the stunning Spencer Hotel, just minutes away from the 3Arena.
Tickets go on sale at 10am on Wednesday 1st April priced from €59.50/£49.50 (including booking fee) and will be available to purchase from ticketmaster.ie.