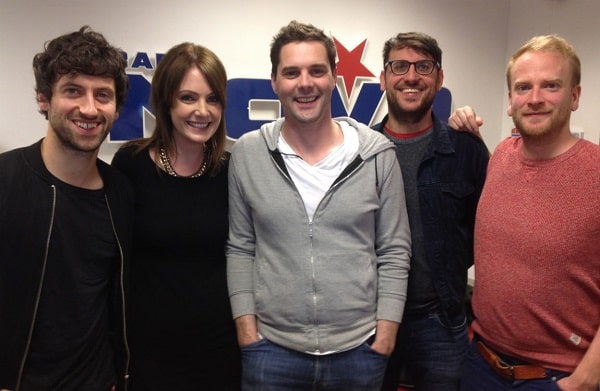 Dublin-based band Delorentos are going from strength to strength, they just released a new album, announced an extensive Irish tour and found time to have a chat on Morning Glory.
Kieran, Ross, and Ró  dropped in to Radio Nova's Morning Glory to chat with Marty Miller and Dee Woods about everything from Russia's shoe melting chemicals, the Late Late show and their new album.
Delorentos are one of the finest bands in the country, the quartet is made up of Ró (vocals, guitar, piano), Kier (vocals, guitar), Níal (bass, backing vocals) and Ross (drums, backing vocals). The group formed in 2005, releasing 2007's In Love With Detail, 2009's You Can Make Sound, which not only hit number 2 in the Irish charts, it won Entertainment.ie's Album of the Year, and 2012's Little Sparks.
The lads are back with a phenomenal new album titled Night Becomes Light, that has garnered praise from fans and critics alike. The Irish Times gave it 5 stars saying it was "The sound of a band who have found their musical and lyrical groove," and Entertainment.ie wrote that is was "One of the finest Irish releases of recent times!"
The group chatted to Marty and Dee about the perils of walking in the snow in Moscow. Now this wasn't quite the same experience as Ernest Shackleton marching through Antarctica but it sounded pretty traumatic for the Irish band. When your shoes start to melt and you are walking in mounds of snow, that is not an enjoyable experience. Though the boys luckily avoided frostbite, they were rewarded by stumbling upon the beauty of Russia's architecture at 6am.
Delorentos also told Morning Glory about the benefits of appearing on the Late Late Show, especially the fact that they are now recognisable to taxi drivers and to reassure their parents that things were going well. The group stated doing the Late Late was "brilliant" and confessed that it was important this time around to stop and smell the roses.
The Dublin group finished off the interview with Marty and Dee with an acoustic set of their fantastic song "Show Me Love". I don't know which version i like more, the acoustic or the album version, maybe NOVA will just have to play them both back to back.
Listen to the Soundcloud link below or download the podcast here.
Delorentos full Irish tour dates below.
NIGHT BECOMES LIGHT TOUR
Cyprus Avenue, Cork, Oct 24th – Tickets: http://e1.ie/2r6m
Dolan's, Limerick, Oct 25th –– Tickets: https://dolans.ie
Number 1 Bar, Mullingar, Oct 31st-Tickets: http://www.facebook.com/number1.mullingar
Set Theatre, Kilkenny, Nov 1st – Tickets: entertainment.ie
Spirit Store, Dundalk, Nov 6th – Tickets: www.spiritstore.ie
Shortts, Waterford, Nov 7th –– Tickets: www.crystalnightclub.ticketabc.com/
Kavanaghs, Portlaoise, Nov 8th – Tickets: ticketmaster.ie kavanaghsportlaoise.com
Roisin Dubh, Galway, Nov 14th – Tickets: www.roisindubh.net/tickets.html
INEC, Killarney, Nov 15th — Tickets: www.ticketmaster.ie
DeBarras, Clonakilty, Nov 20th – Tickets: www.tickets.ie
Walshes Yard, Mitchelstown, Nov 21st–Tickets: www.tickets.ie
Ballymaloe Grainstore, Shanagarry Nov 22nd–Tickets: www.ballymaloegrainstore.ie
Vicar Street, Dublin, December 12th–Tickets: www.ticketmaster.ie