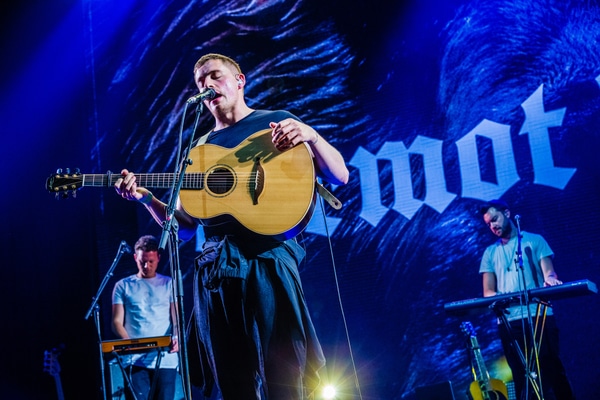 Irish singer-songwriter, Dermot Kennedy has been announced to play two nights at Dublin's 3Arena and is dedicating proceeds to charity. The Paradise singer will play on the 13th and 14th of December, with all profits going to the Pieta and Focus Ireland charities.
All proceeds will be split down the middle and donated to both organisations close to the performer's heart. Pieta provides a free, therapeutic approach to people who are in suicidal distress, and those who engage in self-harm. While Focus Ireland provides services for people who are homeless, and people at risk of homelessness in Ireland.
"I'm so grateful to be playing two shows in Dublin this December in aid of Pieta and Focus Ireland, two incredible charities. Suicide and homelessness are two issues that are sadly so prevalent in Ireland today," Dermot acknowledges. "There are so many people that badly need our help, especially at this time of year. Please think of them and let's come together and raise as much money as we can for these extremely important causes."
2021 has been very kind to the Maynooth graduate, who has seen his stockpile rise and rise through massive hits like Better Days. The single has pushed Dermot to another Top 20 single in the UK and Top 5 in Ireland. Things just keep getting better and better for the Dublin singer as he has also completed a record-breaking 3-night-sell-out of London's Alexandra Palace for a debut album. The singer has also played a sold-out gig at the Red Rocks Amphitheatre, Colorado, during his tour of North America.
The Dublin native has transformed into a global star from the huge success of his 2019, #1 selling debut album, Without Fear. Dermot has also skyrocketed to the tune of nearly three billion streams globally, and over 15 million monthly listeners on Spotify.
His debut album has been sitting pretty atop the pile in first place for an astonishing 29 weeks, selling over 1.7million copies worldwide. Winning the accolade for Ireland's fastest selling debut album of the past 20 years, the biggest selling Irish artist of the millennium has also been nominated for the 2020 Best International Male BRIT Award.
Reaching Platinum certification, leading track – Outnumbered has become one of the longest running tracks to be playlisted on BBC Radio 1. Meanwhile, top track – Giants has also raked in great success as it reached # 2 on the Irish Singles Chart and scored Gold status in the UK.
The aforementioned track, Paradise, has spent over 20 weeks in both the Irish and UK Official Singles Chart. Dermot teamed up with multi-platinum Italian production trio, Meduza, for the new hit, reaching #1 in Ireland and #5 in the UK.
General tickets for the upcoming shows go on sale here from Friday November 19th at 9am, from Ticketmaster outlets and ticketmaster.ie. Check out Dermot's new track, Without Fear.