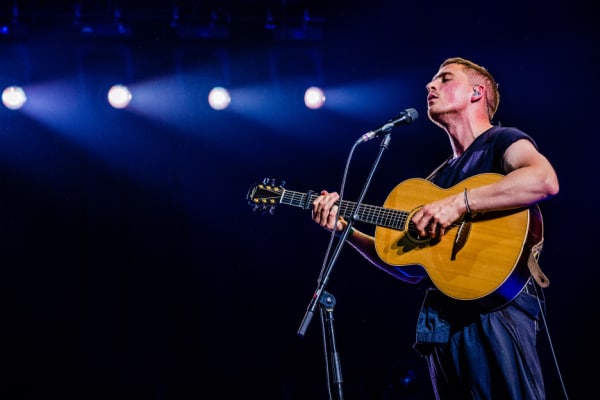 Would you like to listen to the article instead of reading it?
Dermot Kennedy shocked Grafton Street with a stunning impromptu performance, atop of Bewley's balcony last night.
The singer's performance at the venue was in aid of Barretstown, a children's charity offering free, medically endorsed therapeutic recreation camps and programmes for children and their families living with serious illnesses. A charity which Kennedy also urged his fans to donate to.
Urging his audience to pick up their phones and donate, Kennedy told his fans during the concert, "Sure while I have you while your phones are out, can you donate. Just send PressPlay to 50300".
"If you have four euro to spare, it genuinely makes a difference".
"thank you"
During this concert, Dermot Kennedy performed that the track, 'Something For Someone'.
Once again, Kennedy also urged his supporters to take out their phones and flash their lights, as he performed this track.
"Sing it and when you do, remember that no matter how lost you feel, you do mean a lot to someone. At least one person cares about you", he said.
Dermot Kennedy was also full of praise for the fans who turned up in their droves, packing Grafton Street.
"I don't think there's many places in the world that we could do this with so many people", he said. "The fact that everyone's here being generally sound and looking after one another is not normal. So thank you".
Kennedy concluded this performance by telling the audience, "I just want to say songs old and new, you've been supporting me from the start so thank you so much".
That was something I will NEVER forget. My hometown and my heart ♥️ once in a lifetime feeling X pic.twitter.com/qUsuMIPrjt

— Dermot Kennedy (@DermotKennedy) November 22, 2022
Dermot Kennedy's much anticipated album 'Sonder' also arrived last week. Check it out here.
On top of this, Dermot Kennedy also added an extra date headlining Dublin's Marlay Park next Summer. The 30 year old will take to the stage on 23 June 2023. More on this from Nova here.