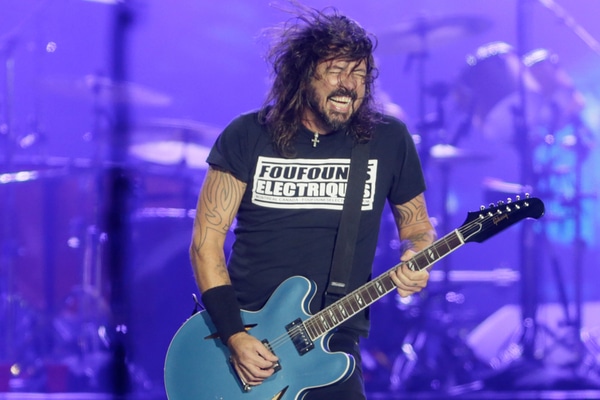 Foos frontman Dave Grohl feels that the "dial is starting to turn" back towards guitar music as mainstream success.
Grohl made these comments during a recent interview, where he was asked about Foo Fighters being the "go-to" rock band on this planet.
"It's been that way for a really long time, but I love being a rock'n'roll band", he said. "We're not the only one". 
Grohl continued, "There's so many f****** great bands out there that hopefully will start getting more attention, because I think the dial is starting to turn back to guitar-based music. And to me, it's really exciting".
Grohl performs Nirvana Covers
Earlier this month, Dave Grohl also performed a string of Foos and Nirvana covers at his book event. 
This was to promote Grohl's memoir The Storyteller. This will include stories of the rocker's life and career including his time as Nirvana's drummer and Foos frontman.
This book will also feature several meetings that Grohl has had with household names of the music industry. These include, Iggy Pop, David Bowie and Paul McCartney.
More on this from Nova here. 
Speaking in a separate interview, Dave Grohl also said that he was terrified about writing about the death of bandmate Kurt Cobain in this memoir.
He said, 'Cause I was scared to write it. It's one thing to write about getting stitches when you're 12 years old or it's one thing to write about taking your kids to the daddy-daughter dance, it's another thing to write about something that you've barely spoken about with people close to you. I mean, I revealed some things in that story that I've never told my closest friends. I was scared to write it". 
He also added, "First of all, I knew what people wanted me to write," he continued. "I think that people have a lot of unanswered questions — as do I. So I decided to write in a much broader emotional sense — the process of loss or grief and mourning, and how that's determined and how it differs from person to person. Yeah, it was a tough one to write".