Dinosaur Jr. have revealed that they're in the studio working on a new record. The news was shared on social media.
Bassist Lou Barlow shared the news via Instagram, he shared a screenshot of a text thread between himself and manager Brian Schwartz. Barlow got the green light to share that the slack rockers are busy producing a brand new album.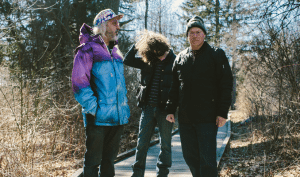 The Dinosaur Jr. rocker referred to frontman J. Mascis in a caption on the post, "once th snow stops ima get down t Js and get on w/ it,".
This drop will follow the group's 2016 release Give a Glimpse of What Yer Not. More details on the new record to come…
View this post on Instagram
According to CoS, the last couple of years hacve seen Barlow busy with his other project Sebadoh's recent LP Act Surprised. J Mascis released with last year's solo effort Elastic Days.
Dinosaur Jr. also got together with their musical buddies last summer for their three-day rock event, Camp Fuzz.