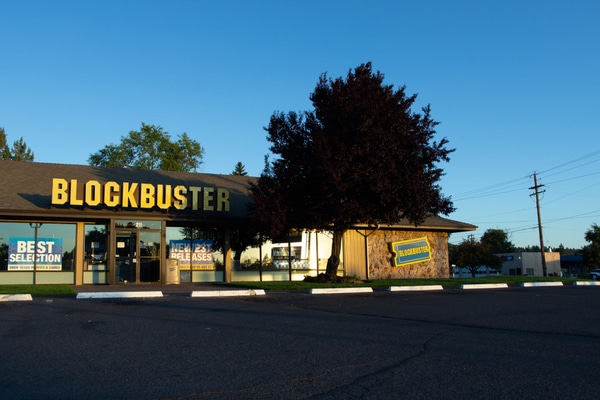 A documentary about the last ever Blockbuster video store is set to be released later this month. In an ironic twist of fate, Netflix will stream The Last Blockbuster documentary which follows the story of the video store's demise. Blockbuster previously passed on the opportunity to buy Netflix before the streaming giant took over as a major player in the media world.
The documentary tells the story of how one small town video store managed to survive the fall of its corporate parent. Following Sandi Harding, the manager of the Oregon-based Blockbuster, it reflects on the store's heyday and the rise of Netflix. Netflix first allowed customers to have videos delivered in the mail, and then went on to revolutionize how people watch movies.
Filmmakers Taylor Morden and Zeke Kamm use the documentary to explain the economic factors which ultimately spelled doom for video stores. As well as the surge of popularity in Netflix, corporate greed, bad management decisions and one major missed opportunity are all involved.
The Last Blockbuster Facebook page shared post that the documentary will soon be streaming on Netflix. It also points out the irony involved in that particular development by saying, "a lot of people know that Blockbuster had the chance to buy Netflix early on, and they passed on the opportunity".
"In an ironic twist of fate, our documentary, The Last Blockbuster is coming to Netflix. We are beyond excited for people to get to see this tribute to era of home video on the world's largest streaming service. Just don't forget to rewind it when you're done watching it and bring it back by noon on Wednesday."
Directed by Taylor Morden, while written and produced by Zeke Kamm, the documentary features interviews with comedians and celebrities such as Adam Brody (The O.C.), Ione Skye (Say Anything), Doug Benson (Super High Me), Paul Scheer (Veep) and Kevin Smith (Clerks, Jay and Silent Bob) and with narration by Lauren Lapkus (The Wrong Missy).
Another documentary coming to Netflix is the highly anticipated "I Got A Story To Tell" and will cover the life of rapper, the Notorious B.I.G, Biggie Smalls. An official trailer has been launched that you can find here. Also announced is Tim Burton's live-action series called Wednesday, which will follow the Addams Family's death-obsessed daughter, Wednesday Addams, as she "attempts to master her emerging psychic ability".