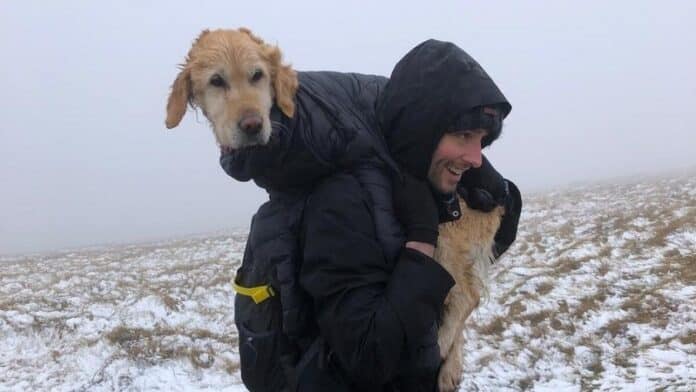 A dog who was lost for two weeks was rescued by a couple hiking in the Wicklow mountains and the story of the rescue has gone viral.
Two weeks ago, Naoise, an eight year old Golden Retriever went missing in the mountains. Jean Francois Bonnet and Ciara Nolan are two doctors who were hiking on Lugnaquilla and came across Naoise.
The two doctors have been working on the frontline throughout the pandemic and went for the hike near their home on Saturday.
They came across Naoise who was freezing, weak and unable to bark. The couple then wrapped the dog in clothes, gave her some food and carried her down from the mountains.
Once they returned home from the Wicklow mountains, they fed Naoise, warmed her up and contacted an animal rescue group who were able to reunite the pooch with her owners.
The owners said that they were delighted after missing Naoise for two weeks.
A video of the rescue has gone viral as it has been shared and view across social media. The video on TikTok has over 350,000 views while more than 200,000 have watched it on Twitter and you can watch it here.
In other animal news, it was revealed last week that Prince's beloved dove, Divinity passed away. You can check out Radio Nova's report on it here.
Photo Credit – Jean Francois Bonnet via RTÉ