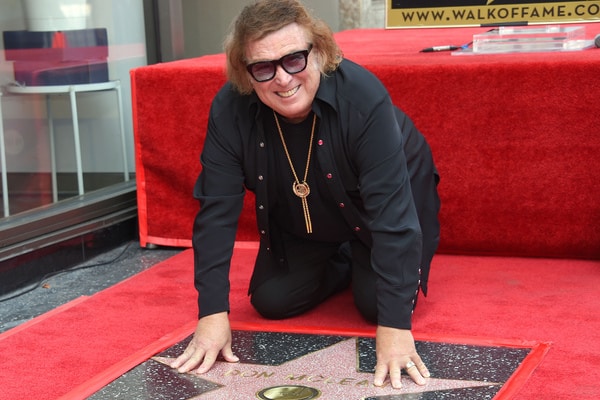 Singer-songwriter Don McClean has received his own star on Los Angeles's famous Hollywood Walk of Fame.
McClean was joined by friends for the unveiling of the tribute on Monday, August 16th.
The star is located at 6314 Hollywood Boulevard at the corner of Hollywood and Vine in front of the Pie Hole restaurant.
"This is a very special day for me, awards are given every year on those television programs, and every year a new person is named a favourite, however, this award is forever," said McLean. "This is an honour I get to share with friends, fans, and whoever walks down Hollywood Boulevard."
McClean was joined at the unveiling by his longtime friend, parody singer Weird Al Yankovic, who also has his own star on the Walk of Fame. In 1999 Yankovic released a parody song titled The Saga Begins in which he recounted the plot of Star Wars: The Phantom Menace to the tune of McClean's signature song American Pie.
"As far as pop songs go, American Pie is about as sacred as it gets," Yankovic said at the ceremony. "Thankfully, Don McLean has a fantastic sense of humour and he very graciously gave his blessing on my parody."
View this post on Instagram
Award-winning acapella group Home Free capped off the unveiling with an acapella rendition of American Pie. Fans who had gathered joined in with the song. The group, which consists of five vocalists, recorded a version of the song with McClean last year. The tie-in music video won three Telly awards earlier this year.
McClean was pictured planting a kiss on the cheek of his 27-year-old girlfriend Paris Dylan. The singer began dating the model in 2016 following his split from his wife Patrisha Shnier after McClean was arrested on domestic abuse charges. Shnier accused McClean of "adultery, cruel and abusive treatment, and irreconcilable differences."
Dylan posted a picture of McClean's star to her Instagram with the caption "He did it."
View this post on Instagram
McClean is the 2,700th celebrity to receive a star on the Hollywood Walk of Fame.
He receives the tribute 50 years after the release of American Pie. The singer spoke of his favourite memory connected to the song.
"At the turn of the century, I was invited to the Clinton White House," he said. "I sang in front of 600,000 people in front of the reflecting pool as you look at the Washington Monument, and they were all singing American Pie the last day of that millennium."
The Hollywood Walk of Fame was officially unveiled in 1960 with an initial 1,558 stars. Spanning 1.3 miles on Los Angeles's Hollywood Boulevard, the Walk is said to attract over 10 million visitors to the city each year.