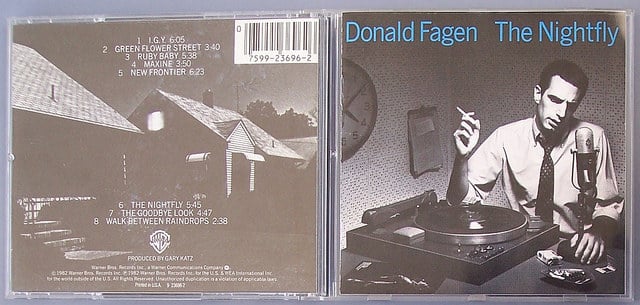 The Nightfly was the first solo album released by former Steely Dan frontman Donald Fagen following the demise of the band in 1982. Fagen, who lent his voice to such Steely Dan classics as 'Reelin' In The Years' and 'Rikki Don't Lose That Number' set out on a solo journey that would see him loved all around the musical world
The album was released by Fagen in October 1982 and did not feature his Steely co-founder Walter Becker. However, Fagen kept up his old Steely Dan ways and featured a whopping 31 artists on the album's 8 tracks.
The album is recognised as one of the earliest records in history to be fully recorded digitally. The album didn't use any analogue methods of capturing sound and is held in high regard by sound engineers today.
The album featured many autobiographical lyrics about Fagen's life and had two popular hits with 'I.G.Y (What A Wonderful World)' and 'New Frontier'. The album would go on to be certified Platinum in the UK and US receiving a number of Grammy nominations.
Track Listing
1 – I.G.Y (What A Wonderful World)
2 – Green Flower Street
3 – Ruby Baby
4 – Maxine
5 – New Frontier
6 – The Nightfly
7 – The Goodbye Look
8 – Walk Between The Raindrops
Photo Credit: CHRIS DRUMM